In life, it is something great to be proven wrong. I could not help but think about that on Wednesday evening in Singapore as I walked around the new Marina Bay circuit, revelling in some early signs that Formula One's first night race is going to be a cracker.
I must confess that (as those who have listened to this week's Autosport podcast will already know) I was very skeptical about the chances of Singapore being a hit when I picked up my bags and headed off to Heathrow Airport on Tuesday.
F1's other new street venue had not gone down that well. In fact, Valencia had been a bit of a damp squib, with a far from enthralling track layout at a venue that got nowhere near capturing the drama and atmosphere that we know so well from F1's most famous street race in Monaco.
So maybe Valencia had served to take some shine off the build-up to Singapore. As too had the talk of the track being incredibly narrow, far too slow and boring - allied to the fears about the lighting and of course that endless chatter about rain.
There was only one way to steer a clear path through what was true and what was myth about Singapore, and that was to take to the track on foot. And the only time to do it was at 8pm - which is the start-time for the race.
Walking out the start of the pitlane and onto the start-finish straight, you would have been hard pressed to tell that it was actually night - beyond looking upwards and seeing the sky was black rather than blue (or cloudy as is more the norm here).
The lighting was bright enough to be able to take some photos without a flash - a factor that provides some evidence at least about just how good the light conditions are. You can see here a few to gauge for yourselves what it is like.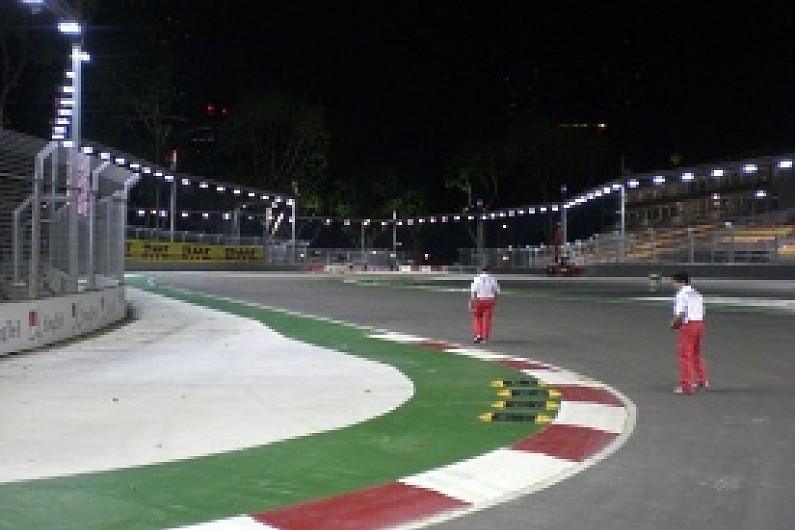 The lighting gantries high above the track are amazingly effective. They only shine directly into your eyes if you are looking straight up at them - something drivers will find difficult to do from the confines of their cockpit.
The second impression, which is evident within a few metres of walking on the track, is just how wide it is. Making progress around the first sequence of corners, there appears plenty of room to get a nose inside a rival - although much will depend on how dirty things are off line as to whether you wish to do it or not.
The track also looks like it will be mighty fast in parts. The kink past the Mandarin Hotel looks so similar to Mandarin Bend at Macau - and should be pretty spectacular as the cars blast under a small tunnel before hitting a hard braking zone.
There are plenty of kerbs and tricky corners to catch drivers out - and the narrow Anderson Bridge should look amazing as the F1 cars duck underneath its overhang and onto the second, narrow, part of the circuit.
The only question mark at the moment appears to be the chicane at Turn 10, which has those high bumps to mark the line of the kerbs. Walking around the corner to it, there were lots of mechanics, engineers and even a certain Jenson Button taking a close look at the design and shaking their heads.
As you can read elsewhere, Sebastien Bourdais has already expressed concern about them - and Button too says the matter will almost certainly be brought up with F1 race director Charlie Whiting. If nothing is done, expect a fair few broken wheels and tubs, and damaged suspension over the course of the weekend.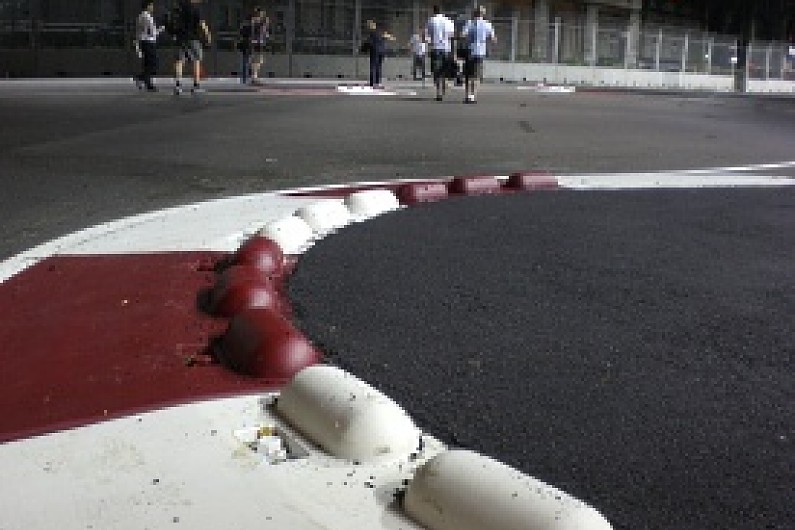 The big question, of course, is whether the wide tracks and tricky corners will allow for overtaking. Button had a swift answer when asked for his thoughts on the matter. "No!" It is something we will only be able to see for sure on Sunday though.
Before the action starts on Friday evening, however, the greatest challenge for everyone is trying to sort out our body clocks. The late timetable here favours sticking to pretty much the European timezone - which means going to bed at getting on for 4am and getting up around 2pm.
They are hours that hark back to life as a student - although this is a weekend where we are only going to be looking forward to what could be the future face of F1.
Autosport has produced a standalone special magazine to celebrate our 70th birthday. All current print subscribers will receive a copy for free. To order your copy of the 196-page Autosport 70th Anniversary issue, please go to: autosport.com/autosport70th