Although this week's Silverstone test featured a host of new names, new car-engine combinations and even a new livery - all eyes were really only on one man.
Lewis Hamilton took his first steps on a road that will lead him to Formula One - maybe even as soon as the start of next season.
After clinching the GP2 championship, he spent three days with McLaren familiarising himself with F1 machinery and beginning to get a taste of what it is like to be a Grand Prix driver.
At the end of the test, having just pipped teammate Pedro de la Rosa on the timesheet, he sat down to talk through his feelings on the week, his relationship with McLaren and even his few incidents.
Q: How does it feel to be wearing McLaren overalls?
Lewis Hamilton: "I am going to sleep in it, I think! I have a new suit today, but yesterday I wanted to sleep in it, but it smelt. I did some straight-line work in an old suit and some filming in someone else's suit, but now I have my own suit with my name on it.
"It is difficult to describe. I am just so pleased I am here. I remember sitting and watching David Coulthard in his early days with McLaren, when I was about 10 or 11, and now I am here and I am 21. It is my dream. It is quite emotional.
"It has been a long, hard journey. I started racing when I was eight years old, and met Ron Dennis when I won the British championship in 1995 at the Autosport Awards. When I was 10 years old, I went up to him and said: 'I would like to drive your car one day.' And here I am."
Q: Ron had tears in his eyes when you won the GP2 title in Monza...
Hamilton: "McLaren-Mercedes have been very loyal to me, and for years they have supported me. Without their support I would not be here today. I think I have grown up with the team.
"For the last 10 years, I have been part of the team and I have gone through a lot of things with them. They are involved. It has been a long, hard struggle, but winning the championship and keeping them happy is the key, and that is it."
Q: What does it mean for you to be the first coloured driver in Formula One?
Hamilton: "To be honest, I don't really focus on it. At the end of the day, it will be positive in the future for other people who want to get involved in the sport.
"It should not have to be predominantly dominated by white people. It is open for everyone. I can do it, Narain [Karthikeyan] can do it. I think it is good if it is open to other cultures."
Q: Do you see yourself filling the second seat at McLaren, alongside Fernando Alonso?
Hamilton: "Absolutely. These test days, even though I had an interesting day and it has been very tough, I really enjoyed it. I had offs, but fortunately I did not damage the car, and I get on really well with the team.
"They have done a really fantastic job. I feel so good. The atmosphere in the team is so perfect, it is just like my GP2 team. I am really looking forward to working with them.
Q: Bernie Ecclestone says you will be signed for next year. Is this something you see happening?
Hamilton: "Fingers crossed, but I have still got some work to do. I still have to get some mileage under my belt. I only had two days and I did not get that much running. Hopefully Bernie is right and I get a chance for next year."
Q: You had three days here. Did you enjoy it?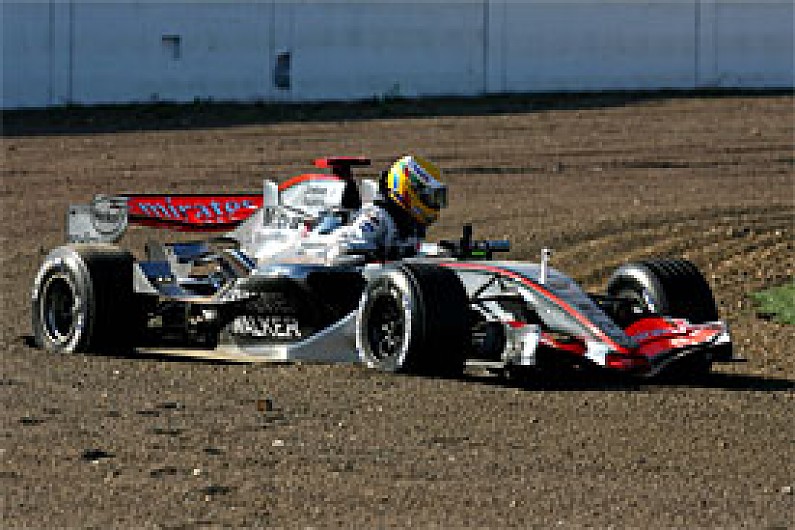 Hamilton: "This week has been the best week of my life, I would say. I really enjoyed it. It has been fantastic. The team have been very welcoming, and they operate quite similar to my GP2 team. Obviously there are more people, but they do a fantastic job. They are very understanding, because it is my first test, they know how much pressure there is on me.
"But we worked through quite a tough day today, a nice warm up on Tuesday, and today and yesterday we got some good times. Today we ended up on a high, and luckily we got out at the end and got a good run, which is the most important thing. We turned the negative energy into positive."
Q: You ended up faster than Pedro de la Rosa, too
Hamilton: "It is different in F1, not like GP2, where one is faster than the other. We were in the same car but Pedro was testing other things.
"The Renaults are there doing lots of qualifying runs this week, and so they are very, very quick. Pedro is testing something completely different to me.
"I was just getting used to the F1 car, trying to get as many laps as possible. Tyres, fuel, weight, they make all the differences. It is difficult to say who is quicker."
Q: What have you found different to GP2 in the last three days?
Hamilton: "The downforce in high-speed corners is a lot more, but how much I don't know. It feels almost double. The high-speed corners are insane, and the first corner here is flat. You approach it at 192mph to take it flat, and it is just incredible.
"You need to hold on to the steering wheel. You don't think about coming off, otherwise you would not take that in flat! Into Maggots and Becketts, which is nearly flat, and you don't touch the brakes. It is ridiculous how you carry the speed through that.
"In GP2, you do touch the brakes and the cars are a lot slower. For me, the braking is a lot better, and the power, and the engine, feels slightly different. Plus there is the traction control. I have got a lot to learn, I think."
Q: Will there be a chance to race this season or next season after your next test in Jerez?
Hamilton: "I guess we will have to see. If an opportunity came up, we would sit down and analyse if I am ready or not. I think it was 60 laps yesterday, and today I did 50 laps, so not a lot at all.
"Pedro has done thousands and thousands of laps, and there is a lot to learn in this car. You know, it is a lot easier in a GP2 or F3 car. If I get another opportunity to test in Jerez, then I hope to get another chance to go winter testing."
Q: How comfortable are you now that you have done some laps?
Hamilton: "I feel at home in the car. Yesterday it was nice to gradually improve step by step. By the end of the day I had improved by one second, which was good. Again, Pedro was tyre testing so we did not necessarily have the same car.
"Today the plan was to do as many laps as possible. I had a tough day, with a couple of excursions, but it is part of the learning curve. Today it felt good. We ended up a lot faster than we had been, and I found another eight tenths from my time yesterday, which I am extremely happy about."
Q: How are you dealing with the traction control?
Hamilton: "You get used to it straight away - I mean, well, after a good 50 laps! I thought you would have to feed the throttle in, but that is not the case - you lose a lot of time. You have to wait, be patient, and then hammer it. That's how you find the time. The traction control corrects the car, and catches the car before you can catch it. But you have to trust it."
Q: Where did you go off?
Hamilton: "It was the last sector. I went off because the brakes needed much more heating. Compared to the GP2 car, it is a lot different. The front brakes were a lot hotter than the rears, plus they were new brakes.
"The front brakes were at the right temperatures and the rears were not working, so I locked the left wheel and went straight off. Basically, we did not have enough heat. With the second off, I was shifting down to second and just went on the edge of the gravel."