Lewis Hamilton says he will "absolutely keep my eye" on Max Verstappen and Red Bull's potential threat in Formula 1's 2020 title fight, warning Mercedes must "stay on our toes".
Verstappen is 37 points behind Hamilton after the opening six races of the 2020 season - ahead of Valtteri Bottas in second place in the drivers' standings - and has been the only driver regularly able to keep pace with the Mercedes duo so far in the campaign.
The Red Bull driver is six points ahead of Bottas after the latter's puncture at the end of the British GP, and because he was able to finish ahead of him after the Finn's poor starts in Hungary and Spain.
When asked if he views Verstappen as a genuine title threat for the rest of 2020, Hamilton said: "You take the first race away with Max having the DNF, I think if you look at the results, we would be very close in points still.
"So in my mind they are [a title threat], and obviously they've had very strong results.
"And they're getting closer and races. Maybe in qualifying we do have the edge. But let's say when it comes to the race, we're generally a lot closer.
"We're not even halfway through the season. And so, I absolutely keep my eye on them. I think they still are a title runner. We need to stay on our toes."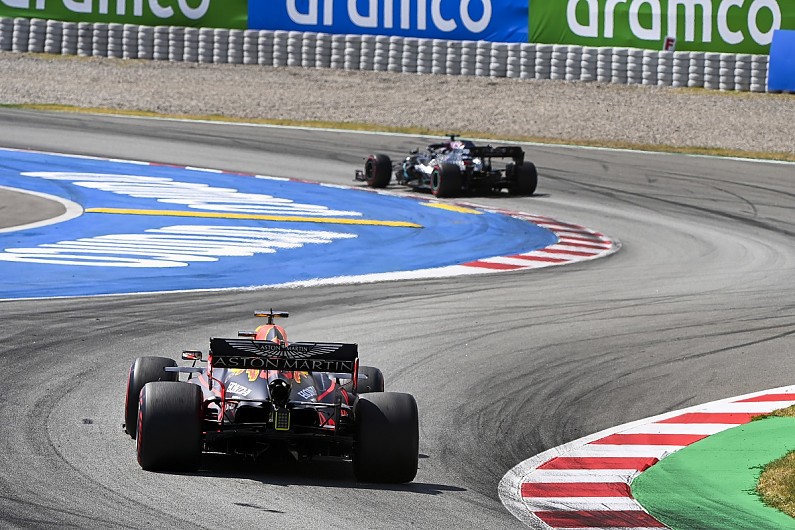 Verstappen, who downplayed his current position as an "overachievement" so far in 2020, was able to beat the Mercedes drivers in the 70th Anniversary GP as a combination of softer tyres, hot temperatures and the levels of downforce the W11s were producing through Silverstone's high-speed and high-energy corners.
The Spa circuit for this weekend's Belgian GP features several corners of a similar nature, but has more and longer acceleration zones, while conditions are much colder than they were at Silverstone.
Bottas said "it's such a different track to previous tracks that we've had tyre issues, so it's so difficult to predict" if Mercedes will again struggle with tyres.
He added: "But yeah, I think with the softer compound, maybe it's a bit more difficult to make a one-stop even though you can always try and qualify on the medium.
"But I have no answer. I guess we'll find out.
"At least the temperatures is looking pretty cool, which is not maybe a bad thing for us.
"But in any case, I have no doubt that Red Bull will be there, in the race pace they've been pretty good with the tyres and the long run pace."