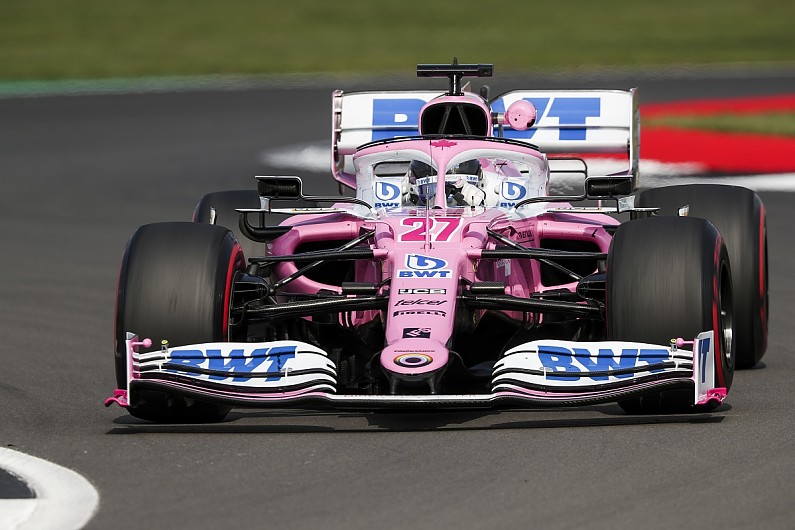 Nico Hulkenberg failed to start the British Grand Prix after being sidelined by a late power unit issue shortly before going to the grid.
Hulkenberg was drafted in at late notice to make his Formula 1 comeback this weekend at Silverstone after Racing Point driver Sergio Perez tested positive for COVID-19.
It marked a shock return to F1 for Hulkenberg after losing his Renault seat at the end of last year to Esteban Ocon, leaving him without a drive for 2020.
After turning his first laps in an F1 car since the beginning of December in opening practice on Friday, Hulkenberg qualified 13th in the RP20, narrowly missing out on a spot in Q3.
Technical director Andrew Green remarked that the German, who previously raced with the team under its former guise as Force India, had settled in so quickly at the British Grand Prix it was "like he'd never left".
Insight: How Hulkenberg won the race against time for his shock F1 return
But Hulkenberg was denied the chance to take the start after an issue with his Mercedes power unit emerged ahead of the race, preventing the Racing Point mechanics from firing up the car.
Hulkenberg's crew was seen packing up on the grid while the team worked to try and rectify the problem that would allow him to start the race from the pit lane.
"We were unable to fire up the power unit, and investigations are ongoing as to why," a team spokesman told Autosport.
It leaves just 19 cars in the field for the British Grand Prix, with Racing Point fielding only Lance Stroll, who will start the race from sixth place.
Hulkenberg has only once previously failed to start a grand prix through his F1 career, coming at the 2013 season opener in Australia when his Sauber car was sidelined by a fuel feed issue.
The German driver was seen joining the Racing Point engineers on the pit wall for the start of the race, having changed out of his race suit and back into team gear.
Hulkenberg had been looking to score his first F1 points since last year's United States Grand Prix, when he finished ninth, having failed to record a top-10 finish in either of his lat two Renault appearances.
Hulkenberg said on Friday he saw "huge potential" in the Racing Point RP20 car, calling it "massively quick", and was left disappointed with his qualifying effort.
Racing Point is awaiting clarification on how long Perez must remain quarantined after his positive COVID-19 test result, but has confirmed Hulkenberg will race at Silverstone next week should Perez be unavailable.