Red Bull boss Christian Horner says Max Verstappen "redeemed himself" with a second place finish in Formula 1's Hungarian Grand Prix after crashing on the way to the grid.
In damp conditions, Verstappen slid off the road into the wall on the exit of Turn 12, causing damage to the front wing, nose and the pushrod and trackrod on the left-front suspension.
Speaking to Sky Sports F1, Horner revealed that Verstappen was going to bring the car back to the pits, but the team decided to attempt to fix it on the grid, completing the work with seconds to spare before the five-minute warning cut-off.
Verstappen moved up from seventh on the grid to third on the opening lap, and held second after his first pitstop until the finish, despite heavy pressure from Mercedes' Valtteri Bottas.
The Dutchman described the result as "like a victory" after the pre-race dramas, and Horner said that his driver had atoned for the error.
"Max redeemed himself," he said.
"On the lap to the grid on the inters he did his best to go off, I think he went off three times and almost terminally coming back down here.
"We made a late call after he managed to reverse it out to drive it to the grid.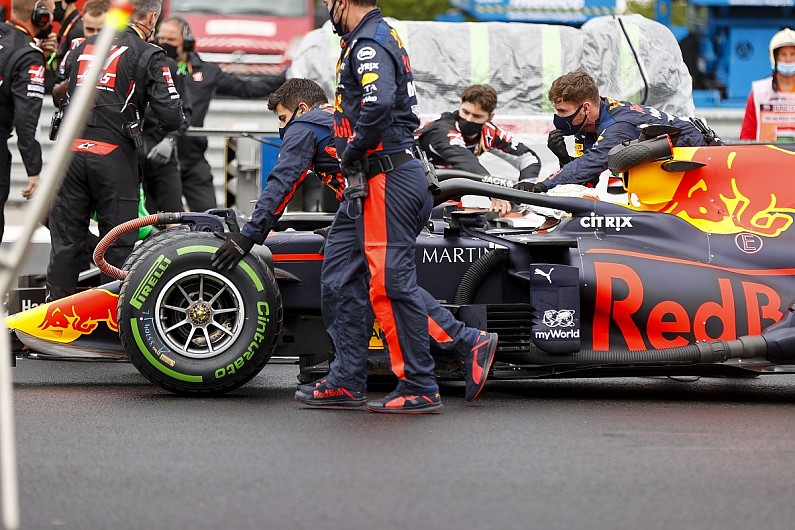 "He managed to keep it running, reversed it out and he was going to come into the pits as he thought it was all over but we could see from the TV it was mainly the pushrod and trackrod.
"The mechanics on that car, Leeroy, Ollie, all the boys did an amazing job today getting that turned around in 20 minutes.
"It is something that would usually take an hour and a half. He owes that result to them today."
Horner added that Verstappen had been "lucky" the damage wasn't more severe.
"If that had been a wishbone or a steering column or even an upright it would be game over so he was very lucky in that respect," he said.
"I think we completed it with 25 seconds to go so it was right [on time].
"The sweat was pouring off the guys and looking at their work there was amazing."
Autosport has produced a standalone special magazine to celebrate our 70th birthday. All current print subscribers will receive a copy for free. To order your copy of the 196-page Autosport 70th Anniversary issue, please go to: autosport.com/autosport70th