Mercedes has made a number of detail changes to its W11 Formula 1 car, bringing a new rear wing and updating its cooling geometry for the Austrian Grand Prix.
Having experimented with its rear wing in testing at Barcelona, Mercedes has retained some of the later changes it made, while bolstering its upgrade package with a new endplate design.
In testing, the W11 ran with a single central pillar on the rear wing, having found enough strength in the design to withstand the aerodynamic loads it experiences.
At its core, the design aims to reduce the frontal area of the car and should hence trim the overall drag back to improve straight-line speed.
This now blends in with the DRS actuator covering, which retains the serrated trailing edge it used last season to clean the airflow passing over it.
PLUS: Is Red Bull F1's only hope of a Mercedes challenge in 2020?
Most teams use the twin "swan-neck" rear wing mountings, which attach to the top of the wing, leaving the underside clear to develop a stronger suction effect to improve downforce.
Mercedes' rear wing endplates have also received some attention, and the overhanging slot section coloured with the red gradient effect now extend further forward compared to the design seen in testing (inset).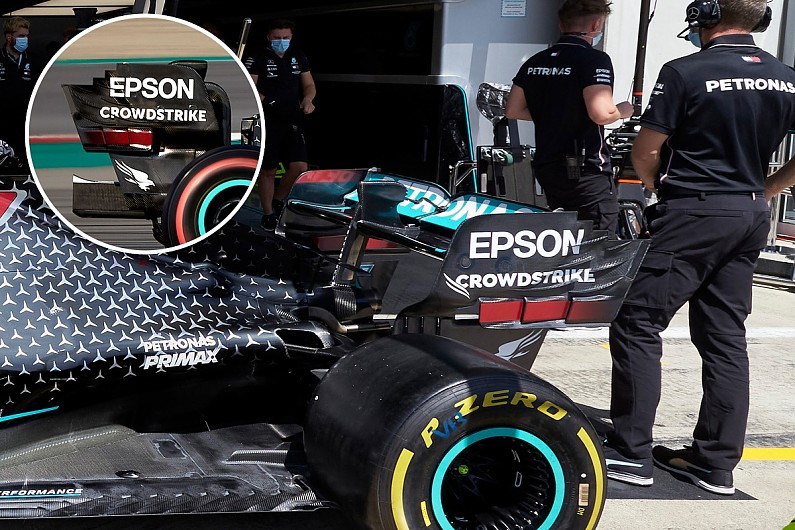 Teams use this zone to expand the effective area of the rear wing, and by introducing the leading edge further to the front, Mercedes has been able to make that a more gradual transition.
The endplate retained the stepped corners and the trailing edge fins, introduced in Germany last year, which control the position of the tip vortices that the wing endplates produce, further expanding the rear wing's effective span.
Although Mercedes has used the endplate strakes before, the design on the W11 join up to a small lip on the bottom edge, which has been retained in the newest iteration.
PLUS: The new rules of F1's tech war
This means that any vortex produced at the tips is now placed further outboard, meaning that it can be released further away from the underside of the rear wing to protect the suction surface.
Next to the halo mounting point, Mercedes has also opened up its customisable cooling vents to bleed heat from the radiators.
These panels can be changed from race to race depending on the demand for cooling and, perhaps with the spectre of 2019 on Mercedes' shoulders, the team has opened this up to cover the risk of any overheating issues.
In last year's Austrian Grand Prix, both Lewis Hamilton and Valtteri Bottas had to turn down their engines in response to the hot conditions, and Mercedes was surprisingly uncompetitive as a result.
Both the gill-like fins to the side of the halo, and the opening behind it, have been made available to help temperatures down.
Autosport has produced a standalone special magazine to celebrate our 70th birthday. All current print subscribers will receive a copy for free. To order your copy of the 196-page Autosport 70th Anniversary issue, please go to: autosport.com/autosport70th