Haas Formula 1 chief Gunther Steiner says he is yet to give thought to the team's 2021 line-up, but would not rule out going down the pay driver route.
Haas has raced with an unchanged line-up of Romain Grosjean and Kevin Magnussen since the start of 2017, but slumped to ninth place in last year's constructors' championship.
The driver market for 2021 has already started to shake up after Sebastian Vettel's exit from Ferrari, and subsequent switches for Carlos Sainz Jr. and Daniel Ricciardo.
But in a video conference with selected media including Autosport, Steiner said the Haas team's focus has been on the return to racing after the COVID-19 pandemic delayed the start of the season, rather than considering its driver line-up.
Steiner recently moved to dismiss rumours about a sale of his outfit - amid a freeze on upgrades to ensure it has its budget in place for the year - as nothing more than a "storm in a teacup".
"I think the driver market this year started early because of the moves from Sebastian at Ferrari, everything started early, but now it calmed down again," Steiner said.
"We didn't have any talks, we didn't even start to think about drivers. We want to go back racing.
"We had so many things to sort out over this period, so the least of my worries was the drivers to be honest.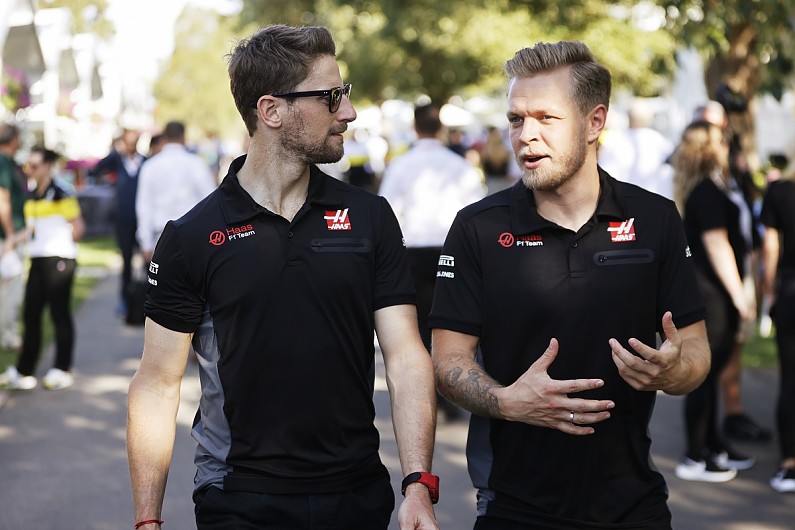 "For sure I wanted to make sure they are safe and good and everything, but not about what we are doing next year.
"It will come up pretty quick as we all know. At the moment, I have no answer to that one."
Haas has never relied on funding from drivers to bolster its F1 budget, with both Grosjean and Magnussen avoiding the 'pay driver' tag.
Magnussen said in an interview with Danish publication BT a few months ago that were Haas to go down the pay driver route, he would not be in a position to bring in funding, nor would he want to.
When asked if Haas would consider hiring pay drivers, Steiner replied: "We have not discussed this.
"We did not discuss drivers, so that means also we didn't discuss pay drivers or anything.
"I don't include or exclude anything. It was not discussed with Mr. Haas yet."