Mercedes driver Valtteri Bottas says he will need to be version '2.77' of himself to win the Formula 1 title next year.
Having played second fiddle to team-mate Lewis Hamilton over the first two seasons of his Mercedes tenure - with the latter half of 2018 proving particularly difficult - Bottas took an imperious win in this year's season opener in Melbourne.
The victory, paired with a seemingly different attitude and a perceived rise in confidence, triggered widespread references to 'Bottas 2.0' - and though he ultimately did not mount a sustained title challenge versus Hamilton, Bottas did manage to finish a comfortable career-best second in the standings.
When answering a question by Autosport at the conclusion of the season about if he needed to move beyond 'Bottas 2.0' to dethrone Hamilton next year, Bottas jokingly made a reference to his #77 race number.
"The fact is, I think competition is only going to get tougher between the top three teams," he said.
"So, for sure beating Lewis is always hard, but it means also beating the other drivers.
"But I know I have the speed in me and the ability so I don't think I need to make any miracles.
"I need to fine-tune everything - so, let's say 'Bottas 2.77', maybe."
Bottas, who followed the Melbourne triumph with wins in Azerbaijan, Japan and the USA, earned another one-year extension midway through the season as he was preferred to Renault-bound Esteban Ocon by Mercedes.
Asked to sum up this past campaign, he said: "It's been a very good year of improvement all around.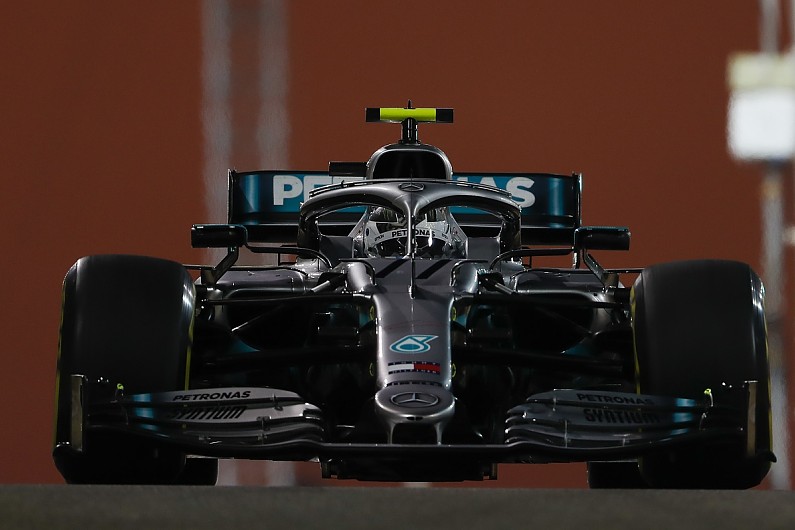 "Every part of what it takes to be a complete driver, what makes the difference to get the wins and the results, and I just need to continue the progress really with the team.
"I've been learning a lot about myself for sure from last year to this year, and from all the mistakes from last year. It's been helping me to be a better driver.
"Obviously I've had many weekends this year that could have been a lot better, so there are many points we are going to review with the team and find the causes, why the pace was not there or why I did a mistake.
"We will really go deep into details and again I can learn from those.
"I can't really point out one thing [we'll look at] except the consistency of the season with my performance, what affects that, and that's more in the fine details [that] I need to go through with the team."
Bottas began his off-season by winning last weekend's Rallycircuit event at Paul Ricard in a Citroen DS3 WRC.
The Finn joked that he would spend winter "eating lots more porridge and looking for a porridge sponsor", but also acknowledged the off-season could be pivotal for his 2020 hopes.
"I managed to find something about myself last [off-season], so for sure we'll try that again," he said.
Autosport has produced a standalone special magazine to celebrate our 70th birthday. All current print subscribers will receive a copy for free. To order your copy of the 196-page Autosport 70th Anniversary issue, please go to: autosport.com/autosport70th