Four-time Formula 1 world champion Sebastian Vettel says Max Verstappen's suggestion at Austin that Ferrari had been "cheating" was not "professional or mature".
Immediately after the United States Grand Prix, Verstappen referenced the Ferrari's drop-off in form with the remark that it was "what happens when you stop cheating".
Earlier in the weekend, the FIA had issued a directive about fuel-flow regulations in response to a question from Verstappen's Red Bull team.
"Well I think it is a sign of our times that a lot of people have something to say," said Vettel when asked about Verstappen's comments ahead of this weekend's Brazilian GP.
"I think the big difference to the past is a lot of people are being heard, whereas maybe before they were being ignored.
"Everybody is free to say what they want, and if that's what he thinks, that's what he may think, but obviously we have a different opinion."
Pressed on what he thought about Verstappen effectively accusing Ferrari of cheating, Vettel was more expansive.
"As I said, everybody is free to say what they want," he said.
"I don't think anybody in the team took it personally.
"I think it is not professional, or mature, but I can also see that you are probably interested in me answering back, and I don't have much interest in that, other to say that for us, the best way to answer is to go back to normal.
"We are not proud of how we performed in Austin on Sunday. After Saturday nobody had the need to complain.
"On Sunday we probably struggled with more than one thing, conditions, tyres, set-up, which are things we need to work on, but calling it that far is just not right.
"But again, live and let live, so if that's what he thinks, that's what he thinks.
"If next week he thinks something different, in the end, we don't care so much."
Rivals including Honda were adamant that Ferrari had lost straightline performance at Austin, but Vettel denied this was due to the FIA directive.
"We didn't lose any power in the engine," he said. "I think we opted to run a bit more downforce than other people.
"In quali, the comparison was quite clear that we gained a little bit on the straights, not as much as usual, but we didn't lose as much as usual in the corners - obviously they go hand-in-hand.
"Obviously I wasn't taking part in much of the race, but for Charles [Leclerc] we didn't have the pace that we normally have, but I don't think - well, I know - it is not for that reason.
"There are other things that made a difference and played a role which we are looking to understand.
"We had some races where we are not competitive at all this year, so it is not the only one, so for sure it will matter to understand what happened, make sure it does not happen again and we'll tackle those areas for next year."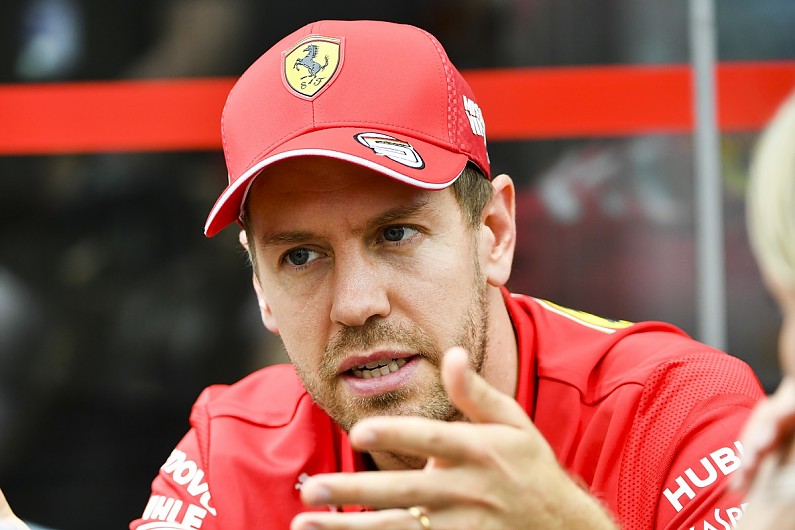 Vettel insisted he does not see Brazil as a specific opportunity to silence critics.
"There is nothing to silence for me," he said. "But I guess it helps, I mean we want to win here and if we win 1-2, I guess it would have a silencing effect as well on that front.
"So, maybe it is a nice side effect, but it is not our target is not to silence people, our target is to win races."
Asked if people were suspicious because Ferrari currently has the best engine, Vettel pointed out that Mercedes had set the pace for several seasons.
"On top of the fact that we have a performing engine, we always have a car that is very efficient, compared to say Mercedes and Red Bull, they have more downforce than us, but maybe they create it in a dirtier way," he added.
"So you can always argue which is the better package but I think it is a good sign, should we have the strongest engine - I don't know the other manufacturers' power figures - it is a great achievement by us, by our engine department.
"And for the last five years, we had Mercedes with the strongest engine, so if it is now for a couple of months we are ahead, then hopefully it stays like that for the next five years, and I don't care what people think or say."
Asked at Interlagos on Thursday if he had gone too far in his comments on Ferrari, Verstappen replied: "I prefer not to comment on it.
"I think it's much more important we look ahead and focus on the last two races, and just fight it out on track."