Alfa Romeo Formula 1 boss Fred Vasseur admits that he was "expecting better" than eighth place from the team in 2019 after its recent run of non-scores continued in Austin.
Alfa has scored just three points since the summer break, and has failed to get a car in the top 10 in five of the past seven events.
The Swiss team lies eighth in the World Championship, seven points clear of Haas, with two races to go.
"We were expecting better, but I think the season was a bit up and down," Vasseur told Autosport.
"We moved between P4 and P9. It's a good lesson.
"We lost huge points in Hockenheim, in Baku, in Monza, in Spa.
"It's sure that when you are in this part of the grid that you have to be opportunist.
"I think we did a very strong job in the first part of the season, to be consistent, no mistakes, and very opportunistic. It was not the case in Spa, for example."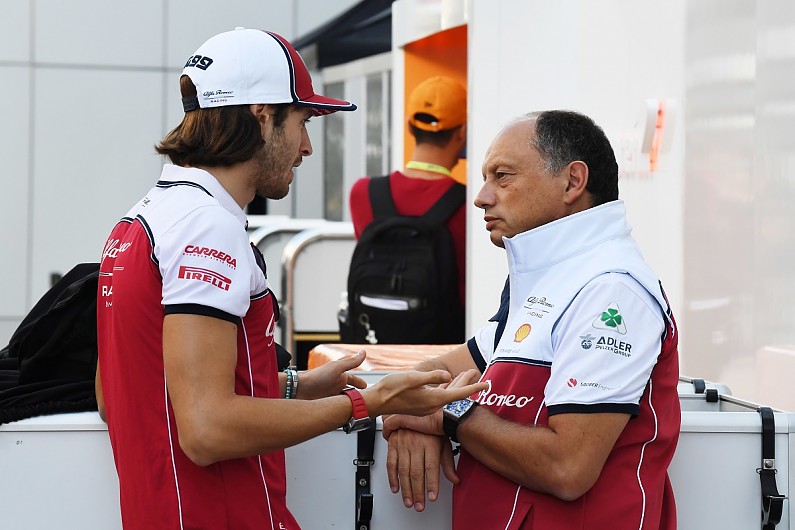 Vasseur has confirmed the team has switched its development focus to 2020, but he says the recent form is more a question of optimising the weekend rather than a drop-off in outright pace.
"It's a bit strange, but I think for me it's not so much a matter of pace," he added.
"I think it's so tight in the midfield that you have to do the perfect race, quali, start, or it's not working.
"In quali we are moving between P9, because McLaren is a bit in front, and P16, and if you want to score points you have to be consistent, with zero mistakes.
"It's a good lesson for everyone in the team.
"We are fully focussed on next year's car, there's no doubt about this. Honestly, it would be better to have a better pace and be one tenth faster, but in the end it's more for us to do a good weekend.
"We can be in the points in Sao Paulo if we do a good weekend from the beginning to the end."
The team got it wrong in qualifying in Austin last weekend according to Vasseur, where Kimi Raikkonen finished 11th and Antonio Giovinazzi - who has just been re-signed alongside Raikkonen for next year - 14th.
"I think the pace was there over the weekend, and in FP3 we were P8," Vasseur said.
"But when you start 16th and 17th it's difficult to score points, and we came back to P11 with Kimi, 0.9s off the points.
"For sure it's not enough, but I think the race pace was OK.
"Toro Rosso had two cars out of the points behind us, and they were competitive in quali.
"It's tight, and I think we missed the weekend in quali, and that's it."
Autosport has produced a standalone special magazine to celebrate our 70th birthday. All current print subscribers will receive a copy for free. To order your copy of the 196-page Autosport 70th Anniversary issue, please go to: autosport.com/autosport70th