Lewis Hamilton thinks Formula 1 has the prospect of an "awesome" Japanese Grand Prix because he has "no idea" which of Mercedes, Ferrari or Red Bull will be quickest.
At the previous race in Russia, Hamilton ended Ferrari's three-race winning streak with the help of a virtual safety car caused by Sebastian Vettel suffering an MGU-K failure.
Prior to that he finished off the podium in Singapore, behind both Ferraris and the Red Bull of Max Verstappen, who has won two grands prix this season and is another contender at his engine supplier Honda's home race.
"It's going to be awesome," said Hamilton.
"Suzuka is incredible, it's one of the most exciting parts of the year, and now so more than ever before because you've got three solid, incredibly fast teams, pushing each other and having the potential to win a race.
"I have no idea who is going to be quickest there. At the moment, Ferraris are quite dominant but maybe it will suit our car a little bit more, who knows? Or the Red Bull, maybe.
"So. it's exciting to go there because that's a serious driver's track, one of the best ones of the whole year.
"It's proper grass and gravel and walls so it's the ultimate test, for the car and also for the driver.
"I just hope that we get to have a good race there."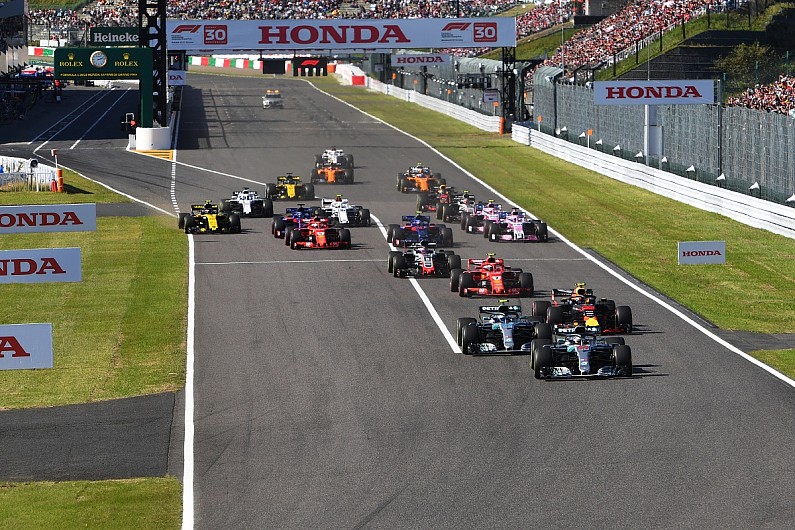 Charles Leclerc has claimed four pole positions in a row for Ferrari but only won twice, suffering from the team's strategy in Singapore before being a victim to the VSC period that handed Hamilton the win in Russia.
He believes the team's form at power-sensitive tracks and more downforce-dependent places means Ferrari should expect to be competitive again at Suzuka.
"We've been quick in Singapore, we've been quick in Monza, and both of them are the complete opposites," said Leclerc.
"It shows that we are making some progress, so there are no reasons for us to be very slow in Japan.
"But it doesn't mean that we will have an easy life.
"I'm pretty sure that Mercedes and also Red Bull will be very strong there."
Red Bull has failed to fight for victory since the summer break with a fairly muted run to third in Singapore for Verstappen its best result.
However, Verstappen is optimistic Red Bull can return to its pre-break form if it gets its car working better, and Suzuka's high-speed parts do not punish the combination of Red Bull's draggier set-up and Honda's remaining power deficit.
"I still expect we can have a very strong weekend, but there's still quite long straights around the back without the DRS that can be painful, maybe," said Verstappen.
"I expect both teams to be quick, probably Mercedes more in sector one and Ferrari towards sector three.
"That's how it's been through the whole year, and I just hope we find a good set-up with the car. "I'm not too worried."