Valtteri Bottas says Ferrari Formula 1 driver Sebastian Vettel's Russian Grand Prix MGU-K failure was a "miracle" for Mercedes' race.
The virtual safety-car period that followed Vettel's on-track stoppage allowed Lewis Hamilton, who along with Bottas had stared on medium tyres, to pit and rejoin ahead of the second Ferrari of Charles Leclerc.
Bottas then moved ahead of Leclerc when the Ferrari stopped for a second time after the VSC was upgraded to a full safety car, and kept Leclerc behind to secure a Mercedes one-two.
"They [Ferrari] had a strong car, good pace and, as we've seen this year, they've been extra quick on the straights," said Bottas.
"So I knew if they get close enough, especially in sector three, they are going to be a big threat into Turn 2.
"[I] just really had to try to keep it together, try to minimise the mistakes and the car felt pretty decent, especially with the soft tyre in the corners.
"To be in that position beforehand, I think the team did all the right things.
"Already the decision to start on the mediums to go long in the first stint, you start to hope for that VSC or safety car to come - and it came, like a miracle."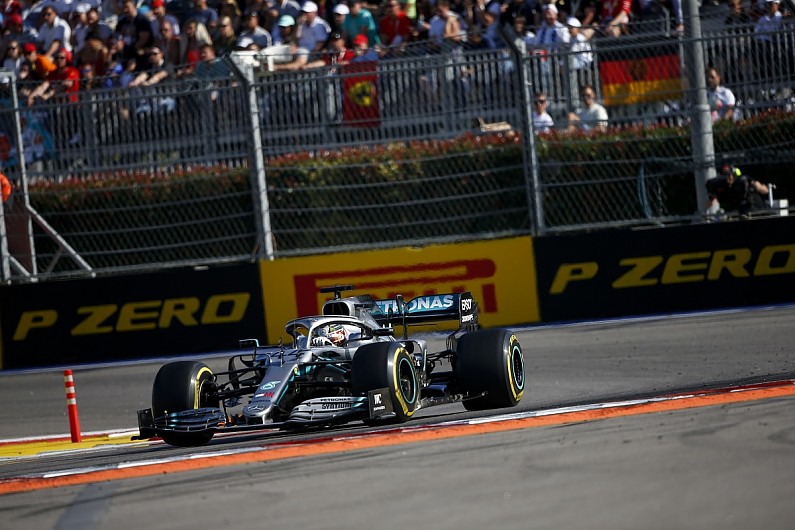 Team boss Toto Wolff agreed the decision to use mediums in Q2, which allowed Mercedes' drivers to execute a longer first stint, was key to victory.
"It was crucial, because one of the things that we were looking for or hoping for was a late safety car," said Wolff.
"And only the medium was able to extend the stint, and that's what happened, caused by their car failing.
"I think we had good pace at the beginning, Lewis was able to hang on to Charles, the Ferraris were pushing each other very strong and very hard, and I think we would have gone onto the soft for the last 25 laps and been on a soft against a medium.
"Realistically, you must say, I think it [Mercedes' pace in normal circumstances] would have probably been enough to follow the gearbox, like in the last few races. But not enough."
Asked by Autosport if the only way to beat Ferrari currently was with ploys like offset tyre strategies, Wolff said: "First, we have to fix our performance.
"You can still fight as hard as you can, but if it's not a level playing field then you've got to step up. Until then, you just have to give it everything, and this is what we did.
"I think, in the moment of joy now, we need to be self-aware - from pure speed, we didn't have the performance this weekend.
"But equally the Sunday result shows you must never give up, even if you go into the race with a package that is not the quickest.
"If you do things right, all of those things, the drivers, the engineers and the management, then you can still win races. You've got to finish."