Daniel Ricciardo insists he was not "trying to be a prick" when he overtook Formula 1 cars as they prepared for their final Hungarian Grand Prix Q1 runs.
The Renault driver was among a pack of drivers who had backed up at the final sequence of corners at the Hungaroring, and elected to dive past them rather than wait and risk cooling his tyres.
He ended up being delayed when he went side-by-side with Racing Point's Sergio Perez, which wrecked both drivers' laps - with Perez later accusing Ricciardo of being disrespectful.
Asked by Autosport about Perez's accusation, Ricciardo said: "I wasn't trying to screw him, I wasn't targeting him.
"I saw Lewis [Hamilton] go, and it worked for Lewis, and I was like, 'Well, I'm going to make a decision', and I thought it would've backed everyone else up, so I was like, 'maybe I can then go as well to get a little bit of gap'.
"It looked like I think [Romain] Grosjean succumbed to being behind Perez, and was like, 'Alright, I'll just stay here'.
"I wasn't trying to be a prick, but obviously I'm trying to get my lap together because I knew that that stage I was probably going to be out of Q1. Desperate times."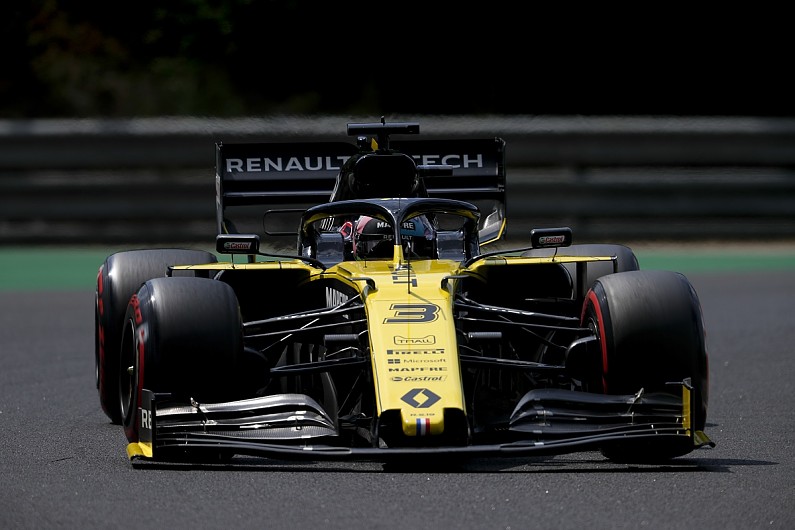 Ricciardo said he had ended up in the situation of tripping up over other cars because his out lap had been fairly swift to keep heat in his tyres.
"I was told basically that I had quite a buffer until the chequered flag so I knew I could've gone slower," he said.
"But I think what I didn't expect at the time was the train of cars in the last corner.
"I wasn't really aware of the number of cars that still were yet to start their lap - I kind of went on my pace, to keep the tyres in, and by the time we got to the last sector I saw everyone, and then I was a bit mixed.
"Do I slow down and let the tyres cool too much, and then kind of have not really great temperatures, or do I try?"
Ricciardo thought he easily had the pace to escape Q1, but said the drama of his incident with Perez was made worse by the fact he only set the 18th-fastest time.
"In the end I think the P18 blows it out of proportion," he said.
"We could've made it a bit easier for ourselves, but obviously the result of being 18th, being outqualified by nearly everyone, probably makes it more dramatic and more frustrating than it was.
"But obviously when we don't have a big pace advantage at the moment over rivals you need every bit you can.
"I think that's why you go so late as well, it's to get the last little bit of grip on the track, so you do make yourself a bit vulnerable, in some situations, for traffic or for yellow flags."