Sebastian Vettel says he "couldn't get on top" of his Ferrari Formula 1 car in British Grand Prix qualifying at Silverstone.
Vettel was outpaced by team-mate Charles Leclerc in all three qualifying segments, and will start Sunday's race only sixth on the grid.
"I think I just struggled to extract what was in the car," said Vettel.
"I couldn't get the right feel, I'm not happy with how it went.
"It didn't look great on my side, I struggled to feel the car today, just couldn't get on top of it in time."
Vettel's Q3 time was little more than a tenth faster than the one he had managed in Q1, and he said it was frustrating not to improve significantly over the three sessions.
"[It] just didn't click, so from my point of view right from Q1 I wasn't able to extract any more from the car, we hovered around the same times," he said.
"We struggled to squeeze everything out from the tyres, from the car. I think it's fair to say we were just doing the same from Q1 to Q3, I wasn't really going with the track, unlike anyone else.
"We also had one run in Q1 with the softs, so Q2 was a bit compromised. In the end I don't think there was a big difference between the tyres.
"As I said, it wasn't the best day."
Both Ferrari drivers set their Q2 times on the soft tyre, as they did at the Austrian GP, whereas their main rivals at Mercedes and Red Bull will start on the medium.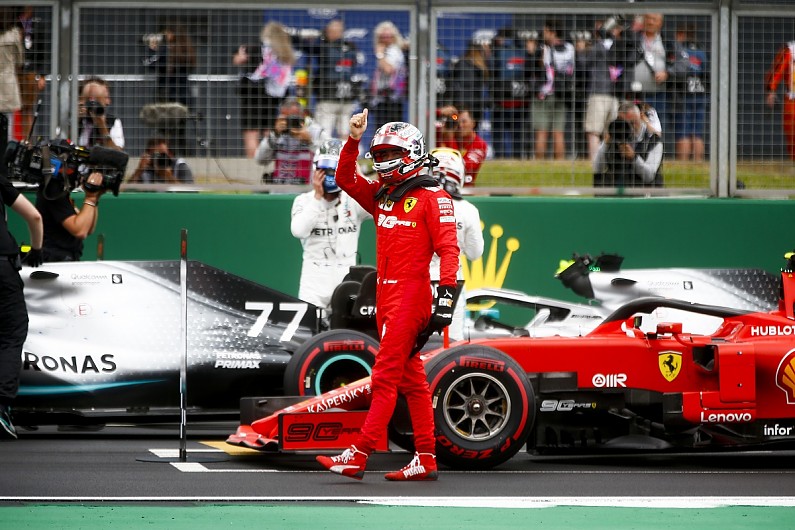 Leclerc was fastest in Q2 but fell behind Mercedes pair Valtteri Bottas and Lewis Hamilton in the final session, and will start third - which he felt was the maximum he could achieve.
"No I don't think so," he said. "[I'm] very, very happy with my lap. I think in the last corner I maybe could have done a little bit better, but not much.
"Overall we are very happy with the performance, very close to the Mercedes and we did not expect it, we thought we would be struggling more this weekend.
"We have been struggling since FP1 with the front end of the car, [and were] still in qualifying, but a bit less.
"It was a good qualifying session for us and I will have hoped for a higher position, but third is the best we can do today."
Asked about Ferrari's Q2 soft-tyre choice, Leclerc added: "We wanted to do that, again I think in Austria it was not a bad choice.
"That is not what made us finish second there, so we are pretty happy here too."