Mercedes Formula 1 team boss Toto Wolff says it was "painful" to see Valtteri Bottas's and Lewis Hamilton's cars handicapped by cooling issues in the Austrian Grand Prix.
Both cars ran Mercedes' most extreme cooling set-up available in Austria, but were still forced to run at restricted power.
Bottas and Hamilton, who finished third and fifth, also had to compromise their lap times with extensive lifting and coasting as they attempted to cool their power units.
Wolff acknowledged that controlling temperatures had been an issue all year, but explained that unusually high ambient temperatures of 34-35C and the 660m altitude of the Red Bull Ring tipped the power unit over the edge.
"We knew that it was our Achilles' heel, and we were carrying the problem since the beginning of the season," said Wolff.
"We tried to work on mitigating the performance loss, but at the end, it was really painful to watch, cruising and not being able to defend or attack."
Asked by Autosport whether Mercedes had a safety margin, Wolff added: "We were right on the limit, we couldn't do anything any more.
"It was already very damaging for performance, what we did. There was no step left any more."
Bottas said the Austrian GP was the most difficult race he had experienced on engine management, and explained that small miscalculations had exacerbated Mercedes' cooling issues.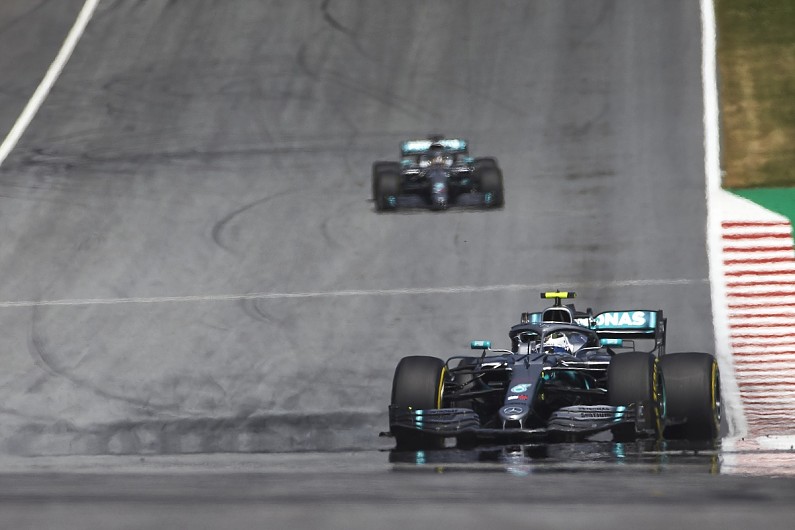 "We were prepared to be saving quite a lot, but not this much," said Bottas.
"We knew it was going to be hot, but we calculated it a tiny bit wrong as well.
"I also think the lap time estimates for the lift and coast were not quite spot on. The more we had to do lift and coast, we were losing bigger chunks of time than we actually predicted.
"For me it was the hardest race in terms of power unit management, temperature management, I've never had to manage it so much.
"Once it gets over a certain point it gets very difficult with big amounts of lift and coast to then also find the braking points, and be consistent.
"Sometimes we had to add more and more metres of lift and coast, and had to adapt all the time on the braking and everything, so [it was] quite difficult.
"Also we couldn't run the full power of the engine, because of temperatures, so that was costing quite a bit of lap time as well.
"So it was tricky, attacking and defending was pretty much impossible, and always if there was a car close ahead I was getting brighter, bigger warnings on the dash."
Wolff conceded there was an urgent need for Mercedes to get on top of its cooling issues ahead of the remaining run of European races before the summer break.
"There is no question, there is no alternative than to fix our problems for the coming hot European races, Hockenheim and Budapest," he said.
"The question is not how or if, but we will react. There is no other option."