Valtteri Bottas bested Lewis Hamilton by 0.041 seconds in the final Formula 1 practice session ahead of qualifying for the French Grand Prix.
Mercedes' command of the Paul Ricard event continued in FP3 as the two Silver Arrows enjoyed a four-tenth advantage over the Ferraris.
Charles Leclerc edged the internal fight at Ferrari, which at least appears well clear of Red Bull - the lead RB15 of Max Verstappen was 1.3s off the pace.
Bottas, who set the pace in Friday's second practice session, led the way after the first runs on Saturday as he posted a 1m30.853s to lead Hamilton by 0.25s.
By this point the Ferraris already looked a little too far behind, although Leclerc lapped only a hundredth slower than Hamilton.
When everybody switched to a fresh set of soft tyres though for the second runs, Mercedes' flexed its muscles further.
Both drivers made mistakes, with Hamilton aborting his first run after a wobble exiting the Turn 6 right-hander before the long back straight.
In the meantime, Bottas extended his advantage by nailing a 1m30.159s on his first lap of the second run.
Bottas then locked up on his second effort, while Hamilton hooked a lap together - albeit with a slower first sector - that yielded a 1m30.200s.
Behind the Mercedes duo, Leclerc's 1m30.605s on the first lap using his second set of tyres was enough to anchor third place heading into qualifying.
Vettel was two tenths adrift after his first flying lap on fresh softs but whittled that down to just 0.028s with an improvement on his next effort.
Though Ferrari looks too far behind Mercedes to challenge in qualifying, it does not appear under threat from Red Bull.
Verstappen's best lap of 1m31.538s came after constant complaints about a lack of grip, and was not even a tenth quicker than team-mate Pierre Gasly could manage.
A similar margin covered Gasly to the next-quickest car, which like on Friday was the McLaren of Lando Norris.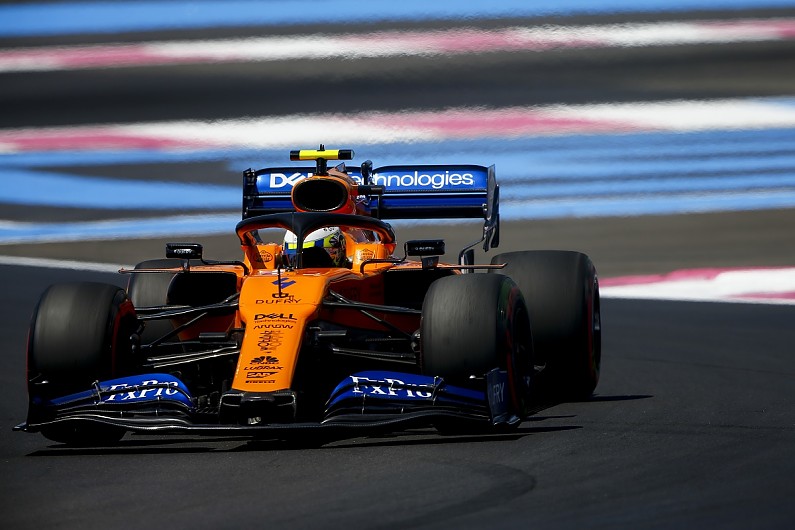 McLaren's chunky advantage over the rest of the midfield has closed overnight, with Renault's Daniel Ricciardo splitting the MCL34s in eighth - he was 0.18s slower than Norris.
Carlos Sainz Jr finished the session ninth while Kimi Raikkonen's Alfa Romeo completed the top 10.
The 60-minute session passed without major incident, and the only real problem struck the Williams of George Russell.
Williams's reigning Formula 2 champion propped up the times, and was 9.8s off the pace with just four laps to his name after a loss of power early on.
FP3 times
| Pos | Driver | Car | Time | Gap | Laps |
| --- | --- | --- | --- | --- | --- |
| 1 | Valtteri Bottas | Mercedes | 1m30.159s | - | 18 |
| 2 | Lewis Hamilton | Mercedes | 1m30.200s | 0.041s | 15 |
| 3 | Charles Leclerc | Ferrari | 1m30.605s | 0.446s | 15 |
| 4 | Sebastian Vettel | Ferrari | 1m30.633s | 0.474s | 13 |
| 5 | Max Verstappen | Red Bull/Honda | 1m31.538s | 1.379s | 11 |
| 6 | Pierre Gasly | Red Bull/Honda | 1m31.599s | 1.440s | 14 |
| 7 | Lando Norris | McLaren/Renault | 1m31.654s | 1.495s | 14 |
| 8 | Daniel Ricciardo | Renault | 1m31.802s | 1.643s | 12 |
| 9 | Carlos Sainz Jr. | McLaren/Renault | 1m31.887s | 1.728s | 14 |
| 10 | Kimi Raikkonen | Alfa Romeo/Ferrari | 1m31.943s | 1.784s | 16 |
| 11 | Nico Hulkenberg | Renault | 1m32.023s | 1.864s | 15 |
| 12 | Antonio Giovinazzi | Alfa Romeo/Ferrari | 1m32.171s | 2.012s | 15 |
| 13 | Alexander Albon | Toro Rosso/Honda | 1m32.178s | 2.019s | 16 |
| 14 | Romain Grosjean | Haas/Ferrari | 1m32.385s | 2.226s | 15 |
| 15 | Kevin Magnussen | Haas/Ferrari | 1m32.400s | 2.241s | 13 |
| 16 | Sergio Perez | Racing Point/Mercedes | 1m32.491s | 2.332s | 15 |
| 17 | Daniil Kvyat | Toro Rosso/Honda | 1m32.540s | 2.381s | 22 |
| 18 | Lance Stroll | Racing Point/Mercedes | 1m32.678s | 2.519s | 14 |
| 19 | Robert Kubica | Williams/Mercedes | 1m33.902s | 3.743s | 21 |
| 20 | George Russell | Williams/Mercedes | 1m39.987s | 9.828s | 4 |