Ferrari has brought a new front wing to the French Grand Prix at Paul Ricard that features detail changes to its current Formula 1 concept.
Throughout the season so far, Ferrari has been one of the teams to experiment with a more extreme front-wing design, which features an outboard section that slopes downward.
With this breed of front wing, the downforce output is concentrated at the inboard section, while the outboard portion is then used to turn airflow around the front tyre.
While there is no change in that philosophy, there seems to be a concerted effort by Ferrari to strengthen the outwash effect, as seen in Giorgio Piola's images from Thursday.
From the outboard section, the curvature in the wing has been changed where the mainplane transitions downwards at a later point.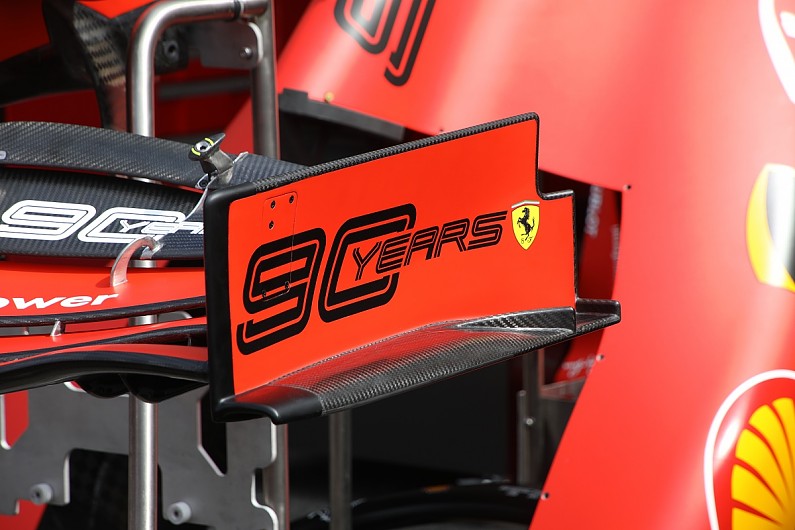 There is also a new set of endplates, featuring a rectangular cutout at the top section to encourage more air to spill around the front face of the tyre.
This is complemented by a change to the footplate, which now features a small fin to further boost the channelling of airflow outwards.
Ferrari principal Mattia Binotto said that although the upgrades brought to France will not provide an immediate fix to the SF90's problems, they should instead inform the team's "next steps" in defining its upgrades.
"In France we will have a few small evolutions, elements that represent for us a useful step in defining the direction we will take in developing the car," said Binotto.
"What we will be bringing won't be the solution to our problems, but the technical feedback we get from these evolutions will be important for the next steps we take."
The older-spec front wing has also been brought to France, suggesting that back-to-back running will take place to assess the merits of the new wing.