Romain Grosjean says he feels like he is in the 'Olympics' of bad luck in Formula 1 at the moment and it is starting to get "fucking painful".
Grosjean was eliminated from the second part of qualifying for the Canadian Grand Prix when his team-mate Kevin Magnussen crashed heavily exiting the final corner and prevented final improvements in Q2.
That meant Grosjean, who was the first car on the scene as he was running a few seconds behind Magnussen, failed to set a lap time after in Q2 after flat-spotting his first set of tyres, and will start the race 14th.
Grosjean bemoaned his misfortune over the radio as the session ended and when asked by Autosport later on, said: "I think I'm in the Olympic championship of bad luck.
"In racing! My kids are good, my wife is good, that's what matters the most.
"But, it's starting to be fucking painful. If you think about everything. The wheel in bloody Australia [after qualifying sixth], and Lance Stroll crashing into me in Bahrain.
"We had a brake-disc failure in Baku. Qualifying last race [Grosjean was blocked in qualifying by Pierre Gasly and knocked out of Q2]. And here again."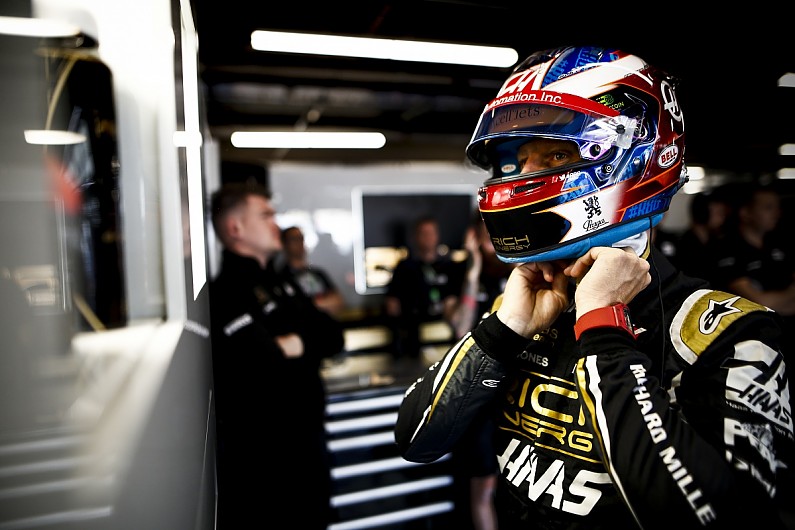 Grosjean's unfortunate start to the season means he only has two points to his name, thanks to 10th-place finishes in Spain and Monaco.
He was on for a stronger result in the Spanish GP before Magnussen launched an aggressive attack at a late safety-car restart, which forced Grosjean wide and triggered him falling down the order.
Grosjean's run has echoes of 2018, when he went the first eight races without scoring a point.
However, asked by Autosport if this period reminded him of 2018, Grosjean said: "No, this is different to last year because I was making 50% of the job.
"This year I've been doing all right. This was the worst weekend, we didn't get to do the soft run in FP3, but we managed to recover quite well, we were in the mix.
"So yeah, it's been disappointing. But everything has to end.
"It hasn't been going on a good path for quite a long time, but some day!"