The Canadian Grand Prix could produce some key answers about the role downforce is playing in Pirelli's Formula 1 tyres' "confusing" performance this year, reckons Williams engineering chief Dave Robson.
A number of teams, including Ferrari and Haas, have struggled to get Pirelli's 2019 tyres into the right operating window, and there is a growing belief that higher downforce levels are needed to help put more energy through the tyres - an area Ferrari is looking at.

The 0.4mm difference that may be costing Ferrari
Robson said this weekend's Canadian GP should throw some more light on the situation because teams traditionally trim off downforce to minimise drag for the Montreal circuit's long straights.
"I think there is definitely the case that downforce and drag don't always do what downforce and drag should do in simple terms, because of the interaction with the tyres," said Robson.
"People would normally think about taking downforce off for Canada. But if you cannot get the tyres working then maybe they won't work as much as normal, so that will be an interesting data point."
Pirelli reduced the tread of its tyres by 0.4mm for 2019 to eradicate overheating and blistering issues that teams and drivers did not like last season.
But one of the consequences of that change is that it has moved the operating window for the tyres to a higher temperature band, which has changed the approach teams need.
Renault's Daniel Ricciardo said: "It hasn't been that straightforward.
"I think even [in] most qualifyings this year, I don't want to say we are not confident but I don't think we are ever really 100% sure about what we need to do on the outlap and [know], 'This is where the tyres will be'.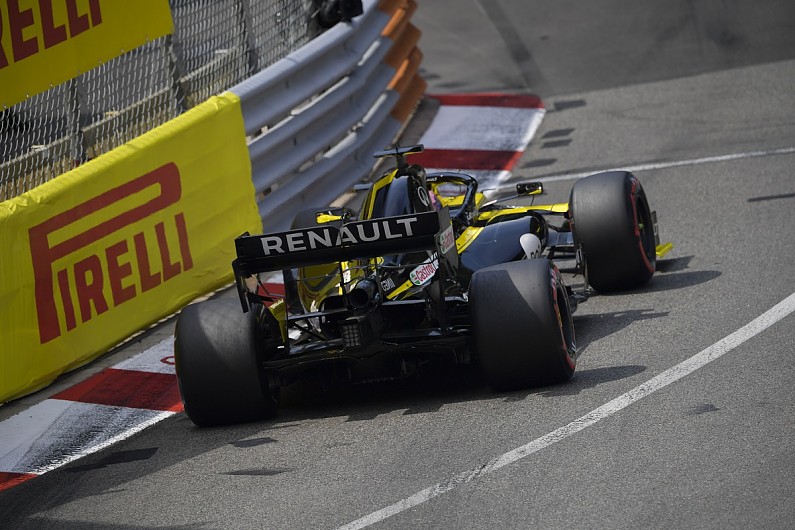 "There hasn't really been a trend so far to really be 100% with it.
"There is still a bit to learn there for sure, and in a way that is nice because there are places you can improve in that area."
Robson agreed that teams have had to relearn a lot about the tyres this year, because how they behave changes so much on different tracks and surfaces.
"We find it appears different compound to compound, track to track," he explained.
"And I think it was interesting listening [in Monaco] to all the other teams' radios, because even by the second run in Q3, a lot of the drivers were still unsure what to do.
"And we see exactly the same as that. It is confusing, challenging - but it is all part of the sport.
"Getting the front tyres hot, that is the main problem - it is very difficult.
"Then you get this problem of you want one thing on Saturday for that one lap and Sunday you want something different, and you cannot change anything other than the way the driver drives.
"It is frustrating. But it is the same for everybody, so it is [a] case of making the most out of it."