Lewis Hamilton said he had his special Niki Lauda tribute crash helmet made "last minute" ahead of the Monaco Grand Prix.
Hamilton contested Thursday practice and Saturday qualifying in Monte Carlos with his own helmet design, before arriving on Sunday with a new helmet based on Lauda's classic colours and with his name on the back.

Former Mercedes non-executive chairman and three-time world champion Lauda died at the start the week leading up to Monaco, where Hamilton was victorious.

"I definitely feel like he was with me racing," said Hamilton.

"I wore his helmet. I had a helmet made, last minute, a big thank you to the guys at Bell Racing getting that done for me.

"I don't think I've ever worn anyone else's helmet design. Of course I've had a bit of [Ayrton] Senna's mixed with mine, so it was kinda cool.

"Sebastian [Vettel] had one like it too. It was great that so many drivers [paid tribute] and we all got to wear the caps."

The Grand Prix Drivers Association produced special red caps with "NIKI" emblazoned on the front, with all 20 current drivers wearing them on the pre-race parade.

Many drivers continued to wear the caps after the race as well, although Vettel joked that Hamilton's was lost when the race winner sponteneously jumped into Monaco's famous swimming pool after his win.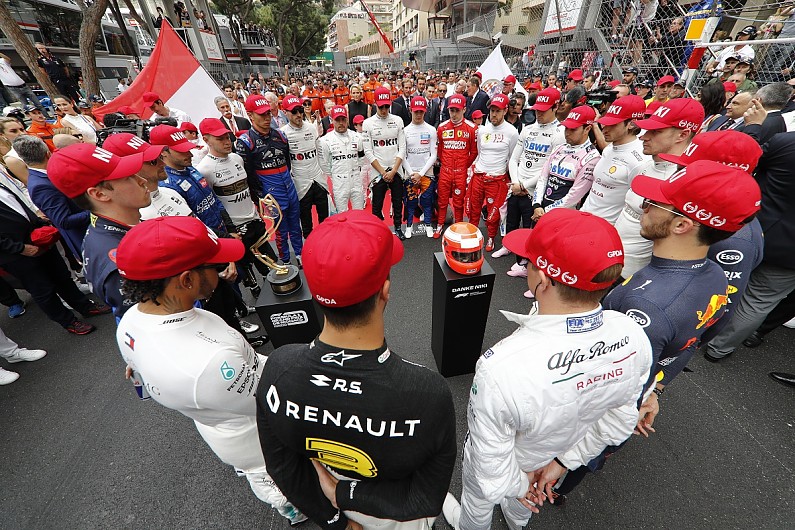 "It's just incredible to see how much support there's been for Niki across the world and just how much respect and appreciation there is for him," said Hamilton.

"Ultimately, as a driver, my goal one day is to hopefully be as respected as he was.

"He's definitely someone who led by a great example, left a great example, and was a real hero to so many.

"In terms of getting in the car, you're able to compartmentalise it and do your job. That's what we have to do as athletes and drivers.

"So, in the car, I was able to focus solely on doing it.

"But outside of the bubble there's that pressure of wanting to pull something special out."

Hamilton said he channelled Lauda's spirit while trying to keep a charging Max Verstappen behind and clinch a third Monaco win.

"With sheer will I just kept pushing," said Hamilton.

"I really, really tried my best to stay focused and not crack under pressure, because Max was doing a great job behind on a much better tyre.

"This week has been such a hard week, emotionally, for us as a team and me personally.

"I just really, really wanted to do the job. I really wanted to deliver on the word of Niki, and imagining him taking the hat off in support.

"When I was driving I was like, 'what would Niki do?' so I just kept going."