Kevin Magnussen has been given a post-race penalty by the Monaco Grand Prix Formula 1 stewards for jumping the chicane while battling Sergio Perez.
Magnussen joins Max Verstappen, Romain Grosjean and Lance Stroll in receiving penalties that shuffled the on the road finishing order.
Haas driver Magnussen was holding off Perez when the Mexican launched a move at the chicane, leading to Magnussen jumping across it and successfully holding onto his position.
The Dane received a five-second time penalty, and therefore drops from 12th to 14th in the official results, behind Perez and Nico Hulkenberg. He also received one penalty point.
The stewards noted: "Car #11 [Perez] moved to the left of car #20 [Magnussen] in the braking zone of Turn 10 [the chicane] and pulled fully alongside.
"The two cars then took the first apex side by side and moved towards the second apex side by side. The driver of car #20 then cut behind the kerb at the next apex avoiding a collision with car #11 which would have resulted had he gone over the kerb.
"However, rather than rejoining the track as soon as possible, the driver of car #20 opened his steering and also missed the next apex creating a further shortcut allowing him to rejoin the track ahead of car #11 rather than side by side, which would have been the case had he gone behind the raised kerb and rejoined as soon as possible, which there was room to do."
After the chequered flag the stewards also clarified the reasoning behind their decisions and licence points situation for the other three drivers who had time penalties.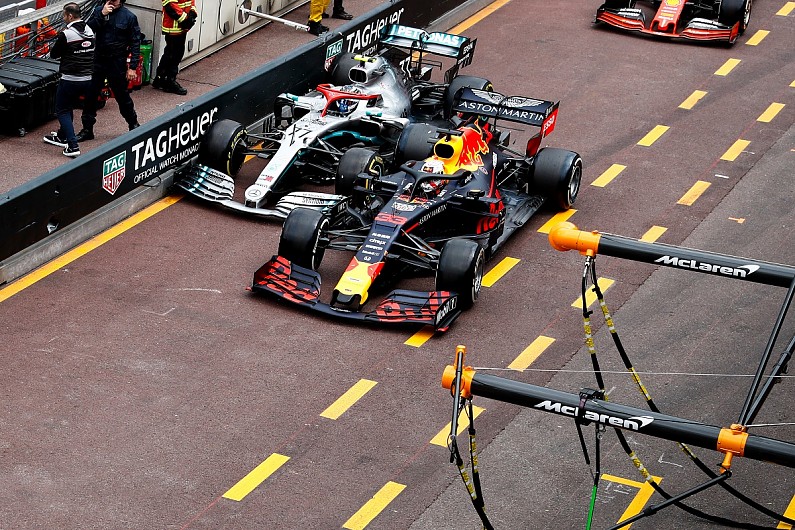 For an unsafe release into the path of Valtteri Bottas, Verstappen received five seconds and two penalty points, dropping him from second on the road to fourth.
The stewards noted: "Car #33 [Verstappen] was released when car #77 [Bottas] was well within the guideboards entering the fast lane.
"The stewards did note that the pit location of car #77 is within car #33's guideboard and that the release was extremely close.
"However, car #33 struck car #77 while continuing the move towards the fast lane and subsequently pulled ahead gaining a sporting advantage following the contact.
"The stewards believe that although ahead at the time the driver had the opportunity to avoid the contact contributing to the unsafe release."
Stroll received five seconds - which did not impact his 16th place - and one penalty point for gaining an advantage when he jumped the chicane early in the race, with the stewards noting that he "subsequently took no actions to mitigate this".
Finally for crossing the pit exit white line after his stop, Grosjean received a five-second time penalty, dropping him from ninth to 10th, along with one penalty point.