Sebastian Vettel says a loose screw in his Ferrari Formula 1 car's cockpit prompted the cheeky joke he made to his team during the second Brazilian Grand Prix practice session.
In a radio message broadcast on F1's coverage of FP2 at Interlagos, Vettel reported to his team during the session that "there's something loose between my legs. Apart from the obvious".
He added: "Something [is] bouncing around between my feet. I'd be proud if it's what you thought it was but..."
The four-time world champion explained afterwards that he immediately realised the innuendo of the initial comment and "maybe it came out wrong".
"I think the biggest worry we had today was a little screw that came loose and was somewhere between my feet," he said.
"We found it in the end! "I said it [the message], and once I said it I thought 'no, don't get it wrong!' so I had to say it again. It was funny.
"But we found it in the end, it was a little screw."
Vettel ended the session third-fastest behind the two Mercedes drivers, but was less than a tenth slower than pacesetter Valtteri Bottas.
He was second-quickest in the opening session but said tyre wear is already looking like an issue ahead of the weekend and Ferrari still needs to improve the balance of the car.
Asked to sum up the rest of the day, Vettel said: "Bigger than the screw. I think it was OK.
"I did decent laps, I think we learned about the tyres. We still have to improve the car because it doesn't feel good yet, still some work to do.
"If we get the balance in the window tomorrow then it [the battle] can be tight."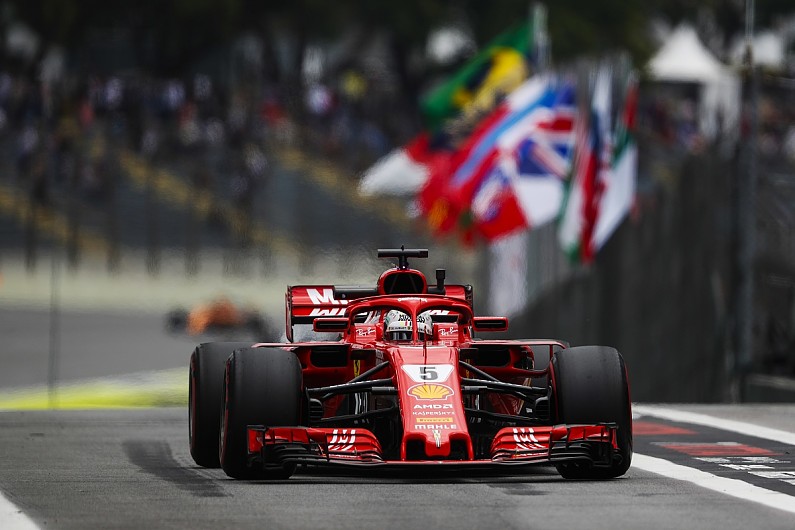 Vettel's title challenge was finally ended in Mexico two weeks ago when Lewis Hamilton clinched a fifth championship.
However, Ferrari retains a relatively-outside shot at winning the constructors' crown. It lost ground thanks to a combination of mistakes and poor development direction, but Vettel feels it is back on track.
"The last races to us were very useful because we understood a lot about our car, a lot of the things that went wrong," he said.
"We're still trying to get a better picture and understand a bit more what's going on."