Daniel Ricciardo needed a new turbo for the Brazilian Grand Prix because a marshal damaged his old one beyond repair with fire extinguisher chemicals in the Mexico Formula 1 race.
Ricciardo retired from second with a hydraulic problem with 10 laps to go at Mexico City.
Red Bull team principal Christian Horner has revealed that when marshals moved to put out a small fire on Ricciardo's car, extinguisher chemicals got sprayed into the turbo and damaged it.
It had to be changed ahead of this weekend's Interlagos race, where Ricciardo will get a five-place grid penalty.
"Obviously the marshals are doing the prudent thing, and they have seen a bit of smoke," Horner told Sky Sports F1.
"You can see flames coming out of the back there, so you cannot blame the marshal really - he is putting out a fire.
"But then he has rammed a load of fire foam up the exhaust and it has then solidified in the turbo, and that was the end of that. It ruined the turbo.
"The other turbo that Daniel has in his pool was on the engine that failed in Austin, and Renault was saying that every time they have run a turbo when they have had a failure like that, they normally stop after 400km. So we don't really want to put him in that position."
Ricciardo admitted that having been annoyed after the retirement, his mood was not helped when he was later told about the turbo problem.
"I got a phone call last week notifying me of what happened when we broke down in Mexico," he said.
"I'd kind of got over it [the Mexico retirement] that week and then I got that call... But it is what it is."
While Ricciardo has continued to suffer bad luck, Horner said his team-mate Max Verstappen seems to have been fortunate to have finished the race in Mexico without problems.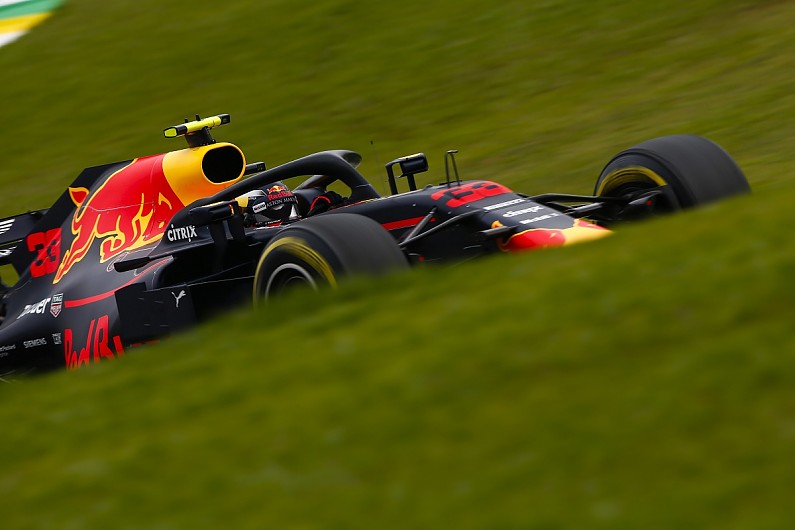 The team suspects that a crack in an oil tower that cost Verstappen track time at the start of second practice in Brazil "might have actually started" during the race in Mexico - which Verstappen won.
"So actually it makes Mexico even more fortuitous," said Horner.
Although Verstappen was fastest in opening practice in Brazil, Horner is sceptical about Red Bull's qualifying prospects this weekend.
"Unfortunately the altitude is not high enough here," he said.
"You can see the car is great in the middle sector, we are OK in the first sector - it is the last sector that is a bit painful for us.
"If we can get a car on the second row here, we have got good race pace.
"You can see the others were blistering their tyres quicker than us here, so come Sunday, especially if the temperature increases, we are in good shape."
Verstappen ended up fifth in the afternoon following his delayed start.
"We missed a bit of the running initially, and then everything is a little bit rushed, and you are out of synch," he said.
"Everybody is doing short runs, you are on a long run, you have traffic and stuff like that.
"So I think the result in the second practice was not the real picture."