Formula 1 chiefs have been urged to do more to clamp down on oil burn, even though new rules have done much to discourage teams from exploiting it.
With F1's turbo hybrid rules having imposed strict limits on fuel flow and quantity since 2014, engine manufacturers realised that one way to boost power was to use oil in the combustion chamber.
The FIA was on to the matter quickly though and a raft of rule changes - including limits to the amount of oil that can be burned, plus auxiliary tank restrictions - have been designed to discourage the behaviour.
But while further changes are coming in next year, with F1 teams forced to keep their auxiliary oil tanks empty in qualifying, one of the grid's current fuel and lubricants suppliers believes things need to get even stricter.
David Tsurusaki, global motorsports technology manager of ExxonMobil, which supplies Red Bull and sister team Toro Rosso, thinks the limit that allows an engine to burn 0.6-litres of oil per 100 kilometres is out of kilter with what is acceptable in road cars.
"Our view of consuming oil in an internal combustion engine is that it is not the direction that the best in racing and the best in innovation and technology for an engine should be working to," Tsurusaki told Autosport. "That is backwards.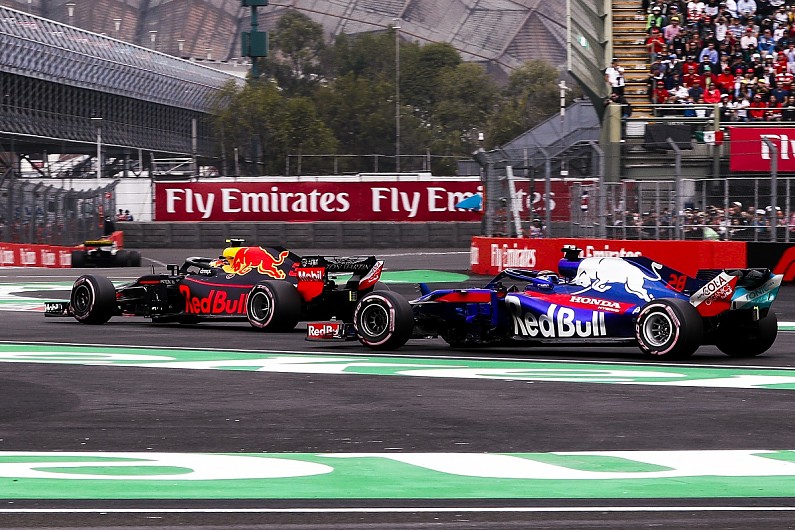 "Our biggest concern is that if they leave the 0.6l per 100km consumption level as is, that means you are allowed to consume that much oil - and that is a lot.
"If you consumed that level of oil in your car, you would have to carry a spare tank of oil around with you!
"The problem is that if you are giving people a number, which we think is a high number, then you are promoting it in a sense for them to find ways to use it because that oil has an energy content."
Tsurusaki welcomed the rule changes coming in for 2019 to try to limit any advantage from oil burn, but thinks F1 would be better off eradicating the practice totally.
"It is not something we have worked on," he said. "We don't work on finding ways to use oil as fuel: we work on using oil as oil and fuel as fuel.
"I know that you do get oil into a combustion chamber on a natural basis - but that is not intentional.
"The more they clamp down on that, the better it should be for the direction of the premier motorsports category.
"It should not be burning oil: it just sounds weird to me."
Autosport has produced a standalone special magazine to celebrate our 70th birthday. All current print subscribers will receive a copy for free. To order your copy of the 196-page Autosport 70th Anniversary issue, please go to: autosport.com/autosport70th