Daniel Ricciardo's Mexican Grand Prix pole celebrations left his Red Bull Formula 1 team-mate Max Verstappen even more "agitated" at his qualifying defeat, his father Jos has revealed.
Verstappen had swept practice at the Mexico City circuit and led the way after the opening runs in the Q3 pole position shootout session.
But Ricciardo improved at the death to deny Verstappen by 0.026 seconds, preventing the Dutchman from becoming F1's youngest-ever polesitter.
Verstappen, who described his qualifying as "crap" and blamed losing pole on a brake-locking issue, went on to win the race on Sunday.
He admitted afterwards he "didn't sleep very well" after his qualifying disappointment.
"I wasn't happy either, but I spoke to him before going to sleep. I tried to calm him down a bit," Jos Verstappen told Dutch TV show Peptalk.
"He was upset because the car wasn't right. [On Sunday morning] he said right away he slept very badly.
"He was irritated because he missed out on pole and because of the car, but also because of Ricciardo's exuberance celebrating pole.
"So he was really agitated and he only wanted one thing - to win that race."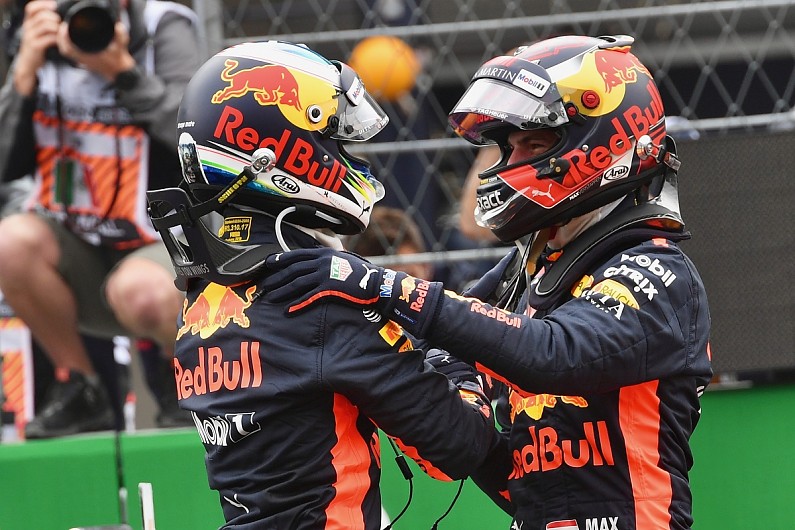 Asked whether he was concerned about his son's state of mind coming into the race, Jos said: "I already received messages from my sister and my daughter saying, 'Hopefully he won't do anything crazy'. But usually when Max is mad he just goes faster."
Ricciardo bogged down from pole at the start of race, and was passed immediately by both Verstappen and Mercedes driver Lewis Hamilton.
Hamilton then challenged Verstappen for first on the run to Turn 1, but the Dutchman held the inside line and retained the lead, and controlled the race from there.
"In the end it was a good thing he started from second place," Jos said.
"If you look at Hamilton's start and how he gets in between the Red Bulls, Max would have been on the outside if he had started on pole.
"It all worked out well."