Mexican Grand Prix organisers have got a back-up plan in case Lewis Hamilton clinches the Formula 1 title without finishing on the podium, after being caught out last year.

Hamilton is on course to wrap up the championship in Mexico for the second season in a row.

The Mercedes driver only needs to finish seventh to secure his fifth world championship and could still be champion even if he retires, provided Sebastian Vettel fails to win.

Hamilton was crowned champion with a ninth-place finish in Mexico last year, following a first-lap puncture, but the organisers had planned title celebrations around him being on the podium.

"It was great to have Lewis becoming champion, even if he didn't make the podium last year which was a little weird," said Mexico's F1 promoter Alejandro Soberon.

"We had the podium celebration and we had a championship celebration and Lewis was here [in the paddock] and his team was there [at the podium].

"We're going to be more prepared this year. If Lewis becomes champion here we're going to have a great celebration.

"We're really hoping it's going to be a good race."

Last season Hamilton parked his car along with the top three finishers from race in the stadium section of the track and completed a live trackside interview with David Coulthard before making his way back to the paddock.
The podium ceremony is restricted to the top three finishers and the representative of the winning constructor.

F1's world champions are not awarded their trophies until the official FIA prizegiving ceremony after the end of the season.

However, Soberon said the FIA and F1 were happy to help them plan something to celebrate the champion on the day.

"You discover that F1 and FIA can be more flexible than everybody believes, if you approach them and give them the right idea," he said when asked by Autosport how such a celebration can be arranged around the usual post-race protocol.

"They have been receptive to everything. We're trying not to propose something silly.

"We couldn't be happier with the relationship we find with F1 and the FIA.

"Everyone is conscious the same thing might happen the same as last year. So we're working on Plan B.

"Plan A is very likely that Lewis will be on the podium and Plan B is if he is not on the podium he needs to be celebrated properly."

The Mexican GP podium ceremony is one of F1's most spectacular.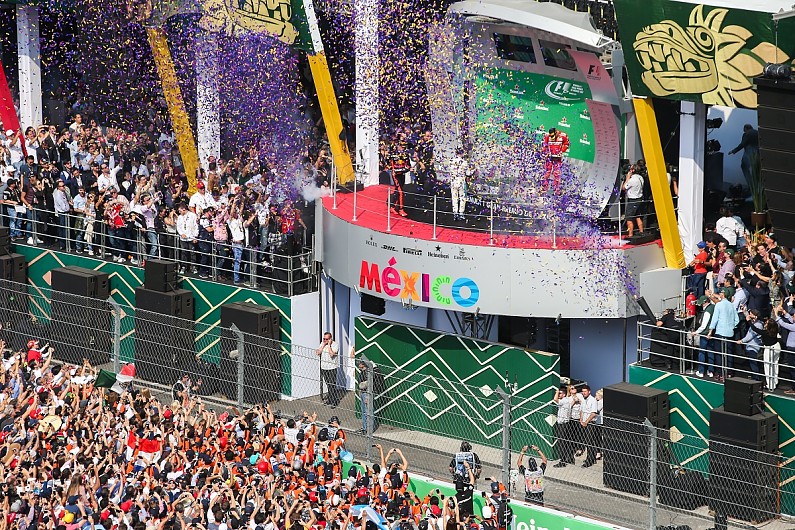 Title celebrations aside, Soberon said the dream scenario would be to have local driver Sergio Perez on the rostrum.

He said: "What can I tell you, maybe Checo, who has been racing well, can do something special here?

"It's a city with 20-million people. If Checo goes and wins this race it will be three million of them celebrating!"