Sebastian Vettel thinks the downforce "hole" left by rivals' Formula 1 cars in battle could be a factor in explaining his series of "weird" spins this year.
The Ferrari driver's world championship hopes have been dented by a number of incidents in recent races where he has come off worse in wheel-to-wheel combat.
In Italy he spun after clashing with Lewis Hamilton, he spun again in Japan after a brush with Max Verstappen and his hopes of victory in the United States last weekend were dashed when he lost control in a first-lap fight with Daniel Ricciardo.

EDD STRAW: The problem Vettel and Ferrari can't ignore

The similar nature of the three incidents - where each time Vettel has spun despite being the car on the inside - has prompted theories that there may be a technical explanation for why Vettel has always hit trouble.
Speaking ahead of the Mexican Grand Prix, Vettel suggested that part of the answer comes from his Ferrari losing much of its downforce when in the wake of another car on the outside.
"Maybe I need to try the outside next time, maybe I don't spin," said Vettel, when asked if there was any explanation for why his spins were all similar.
"Obviously you want to have the inside to the corner, that doesn't change. But I don't know.
"The closer you are to another car, you lose some downforce, and obviously the spins I had were all quite weird because there was not much I could have done [differently].
"It is not like I had gone in too fast or would have spun on my own at that speed, not at all.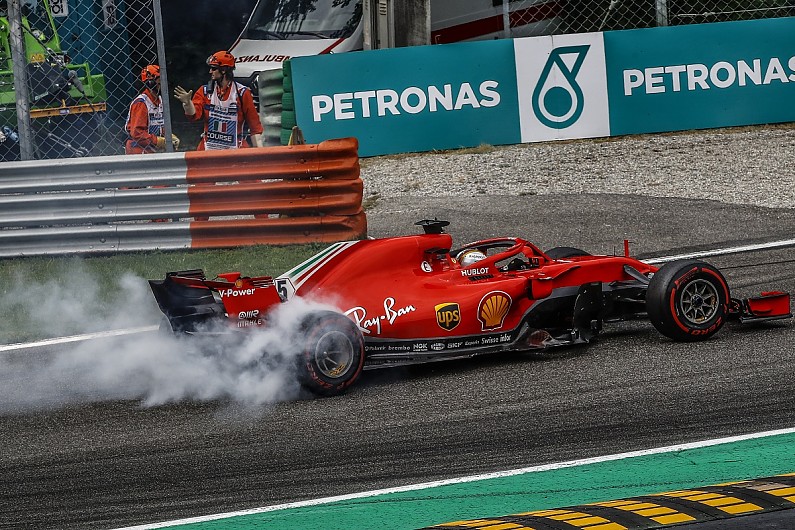 "So I guess there must be some sort of hole or something being on the inside of a car in that position.
"Obviously on all three occasions I wasn't clearly ahead, at best side-by-side, so as I said, maybe next time I try the outside."
Vettel admitted that the run of incidents will make him mindful about avoiding a repeat when wheel-to-wheel with other cars.
"The main thing is that fundamentally I didn't try to do anything silly or stupid," he said.
"I wasn't hard-headed trying to do something that would never work.
"Obviously now it has happened a couple of times, too much.
"So next time there will be a gap, I am sure I will go for a gap, but surely it is in the back of your head trying to keep the car facing the right direction."
Autosport has produced a standalone special magazine to celebrate our 70th birthday. All current print subscribers will receive a copy for free. To order your copy of the 196-page Autosport 70th Anniversary issue, please go to: autosport.com/autosport70th