The FIA Formula 1 stewards decided against penalising Kevin Magnussen for his move on Charles Leclerc in the Japanese Grand Prix because it did not appear to be deliberate.
Leclerc was left fuming at Suzuka on Sunday when he damaged his front wing in a collision with Magnussen as they battled for position early in the race. Magnussen sustained a puncture and had to retire due to associated damage.

The Sauber driver had been tucked into Magnussen's slipstream down the start-finish straight, and as he moved to the inside to try to pass the Haas came across right in front of him.
The stewards investigated but felt the video evidence suggested it was a case of unlucky timing rather than a deliberate chop.
F1 race director Charlie Whiting said: "If you analyse very, very carefully, what you see is two cars coming down, with Kevin not moving and then Charles catches, catches, catches.
"He [Charles] decides to go to the right and, at exactly the same time, or on the video it was one frame, one frame's distance, then Kevin moves.
"I think it is impossible to say Kevin blocked him. It was just that he had made the decision, he was going to go right, fractionally after Charles had.
"You have to look at it quite a few times and analyse it in a little detail to see that.
"But I think it was just unfortunate. And I think that is what the stewards felt."
Alonso penalty explained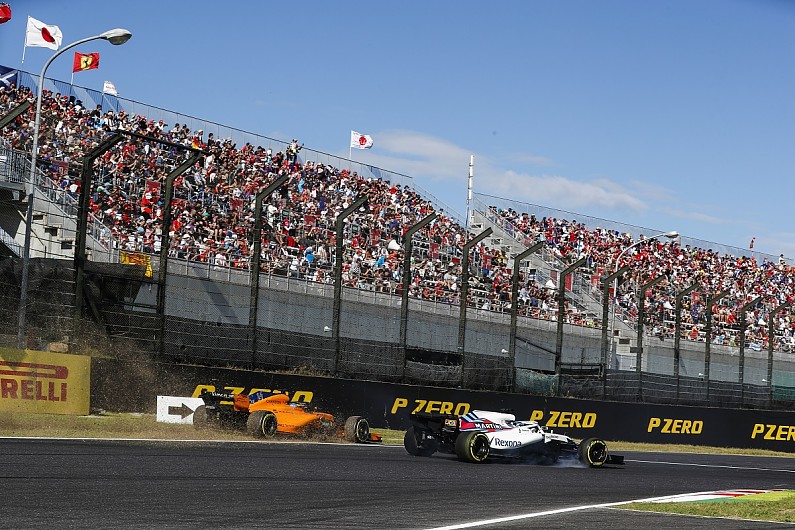 Fernando Alonso was among the drivers who did receive a penalty in the Japanese GP, receiving five seconds for the way he cut the chicane to rejoin after being forced off the track by Lance Stroll.
That decision left Alonso incredulous. Stroll was also penalised for causing the initial incident.
Whiting felt there was no choice but to penalise Alonso.
"The stewards felt that it was perfectly clear what Fernando did," he said.
"He cut the chicane, drove quickly across the gravel and came back on way in front.
"It was pretty clear that he had gained an advantage by leaving the track.
"The stewards felt that Stroll had actually forced Fernando off, so you could not say that because Fernando was forced off he was entitled to cut the chicane. He wasn't.
"He should not have taken a place by doing it but equally Stroll should not have pushed him off the track.
"So they felt each driver should get a five-second penalty for two separate offences."
Whiting added that Alonso probably would not have been penalised "if he had given back the position" to Stroll.