Toto Wolff took responsibility for Mercedes pitting Lewis Hamilton later than planned in the Russian GP, exposing him to Sebastian Vettel, as he had distracted chief strategist James Vowles.
Valtteri Bottas had led the race and pitted on lap 12 of 53, but Mercedes did not bring Hamilton in on the following lap.
But Ferrari told Vettel to do the opposite to Hamilton - by either staying out if the Mercedes driver stopped, or pitting if the reigning champion stayed out on track.
At that moment, Wolff says he was talking to Vowles about possible scenarios. During their debate, Hamilton stayed out and Vettel pitted.
Vettel returned to the track ahead of Hamilton in second, jumping the Mercedes driver for position.
Wolff admitted that Hamilton should have come in on on the lap following Bottas' own stop.
"We got tangled up in the way we called the pitstops," said Wolff. "We did the right thing by calling Valtteri in first, it would have protected his position, but we were one lap too late with Lewis.
"I'll take it on me, because I was engaging with James [Vowles] in a conversation when he should have made the call. And this is why he came in a lap too late and lost position.
"We pitted Valtteri and then Lewis came on the radio and said 'it is one lap too late, Seb has pitted' and we had already committed to another one [option] because we were having a discussion about it, and it was just this one session too much."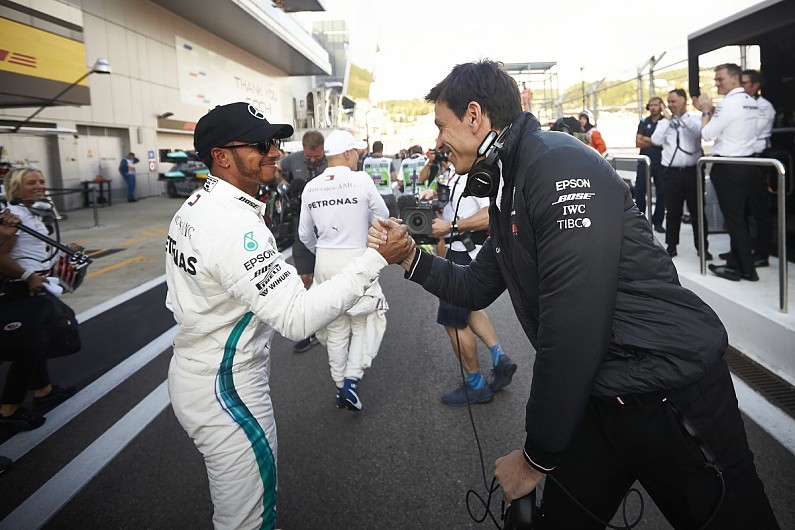 Hamilton blistered his brand new set of tyres by winning his battle with Vettel, which began the team orders controversy thar forced Bottas into surrendering his lead to Hamilton, preventing the championship leader from getting re-passed by the Ferrari driver.
"Lewis had to fight hard to overtake Sebastian, which was really an awesome move, but blistered the tyres," said Wolff.
"And then we were in a situation that Valtteri in front managed the tyres, Lewis behind with a blistered rear and Sebastian all over Lewis.
"And at that stage, there were two possible outcomes.
"The best case would have been it stays like it is and we finish second with Lewis and win with Valtteri, the worst case was the blister wouldn't last until the end and Lewis would have been overtaken by Sebastian in order to manage his tyres.
"This is why I think Valtteri in between was the call we made.
"Rationally, it was the right call to do, but our sporting heart says no."
Wolff was asked if the tyre blistering was a valid reason to enforce team orders, and he said: "We saw it at Spa [with Bottas after an early stop on lap two], we had to pit another time [27 laps later].
"Ferrari at Monza [with Vettel] had a bad blistering problem and had to pit again.
"Imagine the scenario, having to pit Lewis again and finishing sixth or seventh. Finishing sixth, rather than winning the race. That's the pressure moment where we made the call."
Autosport has produced a standalone special magazine to celebrate our 70th birthday. All current print subscribers will receive a copy for free. To order your copy of the 196-page Autosport 70th Anniversary issue, please go to: autosport.com/autosport70th