Lewis Hamilton swept to a virtually unchallenged win in the 2018 Formula 1 Singapore Grand Prix as another Ferrari tactical blunder cost Sebastian Vettel the chance of victory.
Vettel had to settle for third place behind Red Bull's Max Verstappen.
Hamilton and Vettel made the best starts of the top three and the pole-sitting Mercedes cut cleanly through the first three corners as second-placed Verstappen had to defend his position from Vettel.
Behind them, Sergio Perez nudged his Force India team-mate Esteban Ocon into the outside wall at Turn 3, eliminating him from the race and bringing out the safety car.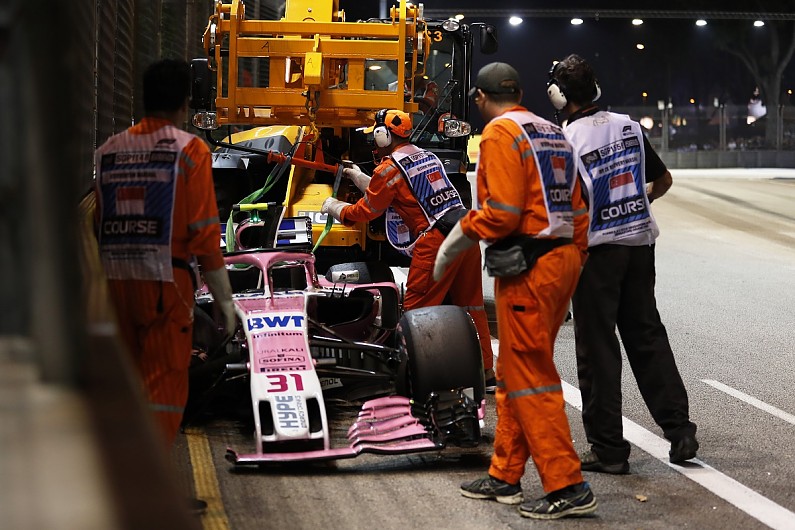 But before race control took the decision to neutralise the race, Vettel had made use of a better exit from Turn 5 to draw alongside Verstappen and pass him on the outside into Turn 7.
In their wake, the majority of the top 10 got away in grid order - Bottas in fourth followed by Raikkonen, Daniel Ricciardo, Sergio Perez and Romain Grosjean - but ultrasoft runners Fernando Alonso and Carlos Sainz Jr each gained two positions on the opening lap, at the expense of Nico Hulkenberg and the now-absent Ocon.
The race got under way again on lap four but the frontrunners were running cautiously, nearly 11 seconds off qualifying pace, to manage their fragile hypersoft tyres and extend the first stint as far as possible.
As the lap count entered double figures the frontrunners lifted their pace in anticipation of the pitstops. Vettel was the first to dive in, on lap 14, taking on a set of ultrasofts.
The stop would prove disastrous for Vettel, since he emerged behind Perez and spent two laps bottled up behind him.
Meanwhile Hamilton and Verstappen pitted on successive laps to take on soft Pirellis with a clear strategy of running to the end with no further stops.
Hamilton returned seamlessly into the net lead, and although Verstappen's engine stuttered slightly as he left the pit apron, he just squeaked ahead of Vettel into Turn 3.
The initial pitstop phase left Hamilton with a 3s lead over Verstappen once Ricciardo became the last of the frontrunners to change tyres, on lap 27.
Vettel was a frustrated third, telling his team: "We were again too late. We will not make it to the end."
As at the Monaco Grand Prix, drivers starting outside the top 10 with a free tyre choice benefitted as some of those ahead on softer rubber pitted first.
Conversely, when Perez, Nico Hulkenberg and Grosjean shed their hypersoft boots they emerged behind the tail-end Williams pairing of Lance Stroll and Sergey Sirotkin, who had started on soft tyres and had no plans to stop promptly.
This prompted the race's second significant incident when Perez grew impatient with Sirotkin and swerved at him as he finally went past at Turn 17 on lap 33, picking up a puncture in the process and enabling Hulkenberg to nip through.
As Grosjean tried to follow Hulkenberg through the pair baulked Hamilton as he came up to lap them, briefly enabling Verstappen to enter attacking range.
Once clear, though, Hamilton stretched his margin out to 3s again and remained out of reach until the chequered flag, eventually finishing 8.9s clear - with Vettel a further 30.9s down the road.
While Hamilton, Verstappen, Vettel and Bottas nursed their tyres to the finish, a battle for fourth place erupted in the closing laps as Ricciardo closed in on and challenged Raikkonen, who in turn crept up on Bottas. But nothing came of it and Bottas crossed the line 1s clear.
Fernando Alonso won 'class B' for McLaren from 11th on the grid, taking advantage of a long first stint on the ultrasofts to gain track position at the expense of Perez and Grosjean, and then defending against an undercut attempt by Sainz for seventh place when he made his single stop on lap 38.
Charles Leclerc, another driver to start outside the top 10 on ultrasofts, followed Sainz home in ninth place, while Hulkenberg completed a solid recovery drive to round out the top 10 after losing track position on the opening lap.
Singapore GP result
| Pos | Driver | Car | Laps | Gap |
| --- | --- | --- | --- | --- |
| 1 | Lewis Hamilton | Mercedes | 61 | 1h51m11.611s |
| 2 | Max Verstappen | Red Bull/Renault | 61 | 8.961s |
| 3 | Sebastian Vettel | Ferrari | 61 | 39.945s |
| 4 | Valtteri Bottas | Mercedes | 61 | 51.930s |
| 5 | Kimi Raikkonen | Ferrari | 61 | 53.001s |
| 6 | Daniel Ricciardo | Red Bull/Renault | 61 | 53.982s |
| 7 | Fernando Alonso | McLaren/Renault | 61 | 1m43.011s |
| 8 | Carlos Sainz Jr. | Renault | 60 | 1 Lap |
| 9 | Charles Leclerc | Sauber/Ferrari | 60 | 1 Lap |
| 10 | Nico Hulkenberg | Renault | 60 | 1 Lap |
| 11 | Marcus Ericsson | Sauber/Ferrari | 60 | 1 Lap |
| 12 | Stoffel Vandoorne | McLaren/Renault | 60 | 1 Lap |
| 13 | Pierre Gasly | Toro Rosso/Honda | 60 | 1 Lap |
| 14 | Lance Stroll | Williams/Mercedes | 60 | 1 Lap |
| 15 | Romain Grosjean | Haas/Ferrari | 60 | 1 Lap |
| 16 | Sergio Perez | Force India/Mercedes | 60 | 1 Lap |
| 17 | Brendon Hartley | Toro Rosso/Honda | 60 | 1 Lap |
| 18 | Kevin Magnussen | Haas/Ferrari | 59 | 2 Laps |
| 19 | Sergey Sirotkin | Williams/Mercedes | 59 | 2 Laps |
| - | Esteban Ocon | Force India/Mercedes | 0 | Collision |
Drivers' standings
| Pos | Driver | Points |
| --- | --- | --- |
| 1 | Lewis Hamilton | 281 |
| 2 | Sebastian Vettel | 241 |
| 3 | Kimi Raikkonen | 174 |
| 4 | Valtteri Bottas | 171 |
| 5 | Max Verstappen | 148 |
| 6 | Daniel Ricciardo | 126 |
| 7 | Nico Hulkenberg | 53 |
| 8 | Fernando Alonso | 50 |
| 9 | Kevin Magnussen | 49 |
| 10 | Sergio Perez | 46 |
| 11 | Esteban Ocon | 45 |
| 12 | Carlos Sainz Jr. | 38 |
| 13 | Pierre Gasly | 28 |
| 14 | Romain Grosjean | 27 |
| 15 | Charles Leclerc | 15 |
| 16 | Stoffel Vandoorne | 8 |
| 17 | Lance Stroll | 6 |
| 18 | Marcus Ericsson | 6 |
| 19 | Brendon Hartley | 2 |
| 20 | Sergey Sirotkin | 1 |
Constructors' standings
| Pos | Constructor | Points |
| --- | --- | --- |
| 1 | Mercedes | 452 |
| 2 | Ferrari | 415 |
| 3 | Red Bull/Renault | 274 |
| 4 | Renault | 91 |
| 5 | Haas/Ferrari | 76 |
| 6 | McLaren/Renault | 58 |
| 7 | Force India/Mercedes | 32 |
| 8 | Toro Rosso/Honda | 30 |
| 9 | Sauber/Ferrari | 21 |
| 10 | Williams/Mercedes | 7 |