Formula 1 has revealed more concept images of its proposed 2021 cars, with Ross Brawn confident of an "exciting" new look for grand prix racing.
After one idea for a new-look car was leaked on social media ahead of the Singapore Grand Prix, Brawn officially released the full scope of the vision F1 is currently working on.
Brawn explained that the driving force behind the change of looks for 2021 remained to help improve the racing, but he was confident that F1 could also make a step forward in visual terms.
"I see no reason why we cannot have exciting looking cars," said Brawn.
"It frustrates me when a car in a video game looks better than the car that we are racing out on track.
"That is not to say we pay total homage to what will look great in a video game. It has to be a great racing car."
Brawn, F1's managing director of motorsport, made clear that the priority for the 2021 designs was to ensure drivers could follow each other closely and improve the racing.
"The primary purpose is to produce raceable cars, cars that will battle in close proximity," he said.
"We see it in other forms of racing, but they are often categories with fixed designs and everyone races the same car. You don't have the extreme designs like in F1.
"F2 cars can lose less performance when they are racing together, but the new IndyCar is great in that respect. We've been sharing some info with IndyCar on their experiences.
"I am pretty optimistic that we will produce some great looking cars and they will be able to race each other much more effectively than they were in the past.
"It is the first time that F1 has majored on these aspects. But I want exciting looking cars."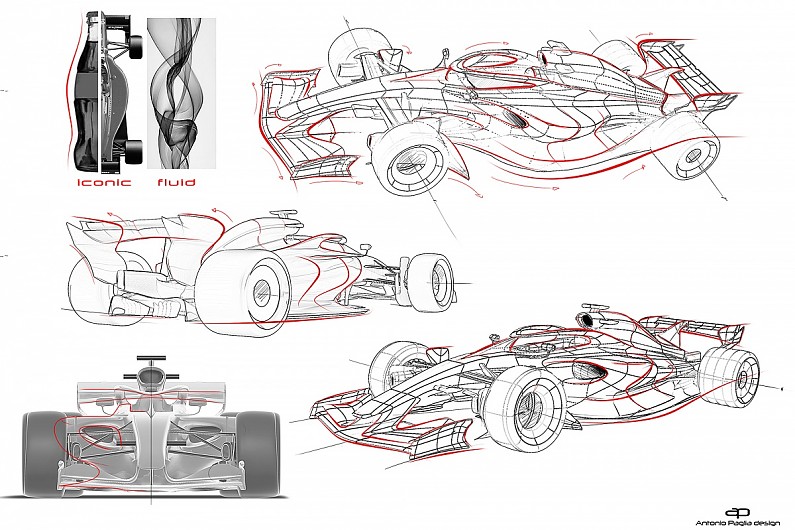 Brawn explained that F1 had worked through three stages of its concept visions, and windtunnel testing had already taken place with teams to confirm the changes to help cars follow each other would work in reality.
"Teams are now involved in this," he said. "But all of the teams now have models that we have initiated and they are looking at them and feeding back information.
"All 10 teams are working towards finding the best solution we can for 2021, so there are regular reviews for all the teams.
"The teams have a limitation on the amount of aero testing they can do, but the FIA has granted them some extra time to work on this project, so there is a great incentive to find the best solution.
"What we are finding from their models is similar to what we are finding."