Stoffel Vandoorne is "100%" certain his short-term future at the McLaren Formula 1 team is safe and dismissed a suggestion he could be replaced for next week's Italian Grand Prix.
Vandoorne is fighting to remain at McLaren in 2019 as it evaluates its reserve driver Lando Norris as a potential partner for the already-confirmed Carlos Sainz Jr when Fernando Alonso leaves F1.
Mercedes junior Esteban Ocon has also been linked to the second McLaren seat, with rumour in the Belgian GP paddock suggesting a driver merry-go-round could be triggered as early as next week's race in Italy.
Lance Stroll is expected to race for Racing Point Force India next season, after his father Lawrence invested in the team, but said on Thursday nothing was guaranteed in terms of finishing the current season with Williams.
The suggestion is that should Stroll change teams, Ocon would be shuffled out of Force India - with McLaren, in place of Vandoorne, his mooted destination for the rest of 2018.
Asked if he could guarantee he would be racing at Monza for McLaren, Vandoorne said: "I don't have any doubt.
"I think these days there's always a lot of rumours and a lot of question marks in the press but from my side I'm 100% confident.
"The only thing I can do is to focus on my job and I think I've shown that I'm very, very close to Fernando.
"Some of your colleagues have made up some statistics to show how close team-mates have been with Fernando and I think I've been pretty much right up there."
Vandoorne has had a difficult two seasons compared to Alonso, particularly in terms of results.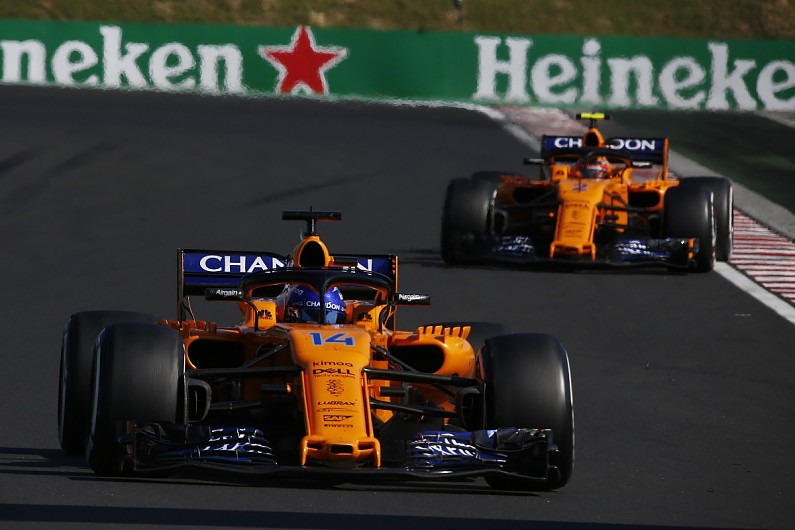 He has eight points to his team-mate's 44 this year, although Alonso only outscored him 17-13 last season.
Vandoorne enjoyed a turnaround in form in Hungary prior to the summer break, having benefitted from a change of chassis.
Asked by Autosport why he is confident about his future and whether it is in his control, Vandoorne said: "The only thing I have in my own control is the performances on track.
"I know I had a difficult run of races before Hungary with the problems we had on the car but then we showed that everything was back to normal in Hungary.
"So, I'm very confident for the next couple of races that the results are going to be back to where they belong.
"It's still not going to be a miracle in the position we are in at the moment but I'm feeling positive."
Should he lose his McLaren drive, Vandoorne's chances of staying on the F1 grid appear limited to convincing a team such as Toro Rosso or Sauber to pick him.
Pressed on the prospect of a team change next year, Vandoorne said it "depends on the situation".
He added: "The past few weeks, so much has happened in the Formula 1 paddock that everything has become a bit unpredictable."