Former McLaren Formula 1 driver Jenson Button says the team's new signing Carlos Sainz Jr will need to be patient and should not expect a swift turnaround in its fortunes.
Button, who claimed McLaren's most recent grand prix win in the 2012 season finale in Brazil (pictured below), left F1 two years ago in the middle of McLaren's ultimately ill-fated stint with engine supplier Honda.
McLaren has switched to using Renault engines from 2018 onwards, but its first campaign with the French manufacturer's power units has also been a disappointment and it sits only seventh in the constructors' standings.
The team has signed Sainz, who had lost his Renault seat to Daniel Ricciardo, to fill the vacancy left by Fernando Alonso deciding not to race in F1 in 2019.
"It's good - but is it stepping up, you know?" Button said when asked about Sainz's McLaren switch.
"He was racing for the works Renault team, who are performing very well this year. He's moving to McLaren, whether it's the right move I don't know.
"He obviously didn't have the option to race at Renault this year with Daniel moving there, so I guess it's the right decision."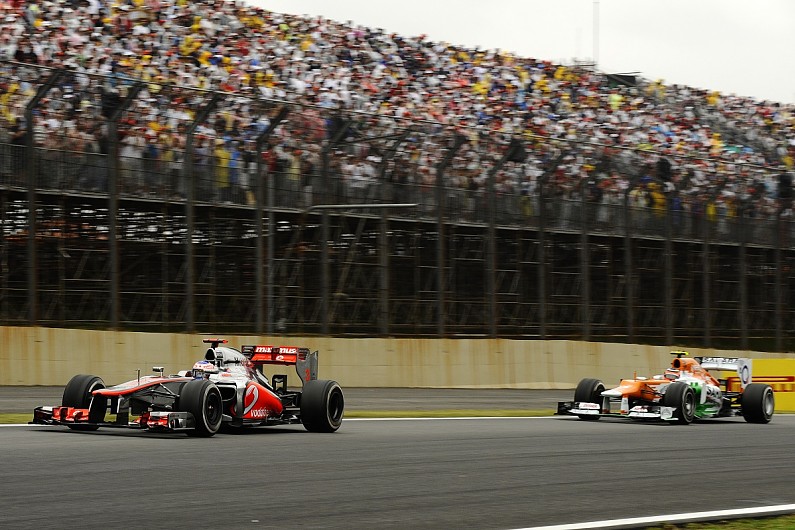 Button warned that Sainz has to realise the scope of the challenge he will face at McLaren.
"I don't think the pace of the car is going to turn around for next year, it's going to be difficult, because they've dropped a long way back," Button said.
"It is a big team, it is a team that has won multiple world championships, so they will find a way back.
"But it's going to take a little bit of time, I think.
"He needs to understand that it's going to take a few years of working hard and making himself feel present and making his opinion count, and hopefully moving the car forward."
Button underlined that Sainz will have big shoes to fill in replacing his Alonso.
"Obviously Fernando's retired, and he knows what he's doing, and he's getting the best out of the car pretty much every weekend," Button added.
"So it's always going to be a hard act to follow. But they wouldn't have chosen him if they didn't think he was worthy."