Toto Wolff says Mercedes lost out to Ferrari by half a second just on the straights in Formula 1 qualifying at Hockenheim, which he described as "a severe warning".
Ferrari has shown impressive pace since its latest power unit upgrade was introduced in Canada, and the form of customer teams Haas and Sauber has provided further evidence of the step that has been made.
Sebastian Vettel took pole for the German Grand Prix, ahead of Valtteri Bottas, who managed to outpace the second Ferrari of Kimi Raikkonen.
"I've heard Christian [Horner] complaining the last four years about straightline speed, so I don't want to go there," said Wolff when asked about Ferrari's advantage.
"But as a matter of fact it's where we lost out today. They have a great power unit, a huge performance.
"We were looking good through all kinds of corners, but we're not able to match their straight-line performance.
"Valtteri was exceptional in the third sector, this is why we were close to pole position. We just have to look at things and try to improve."
Asked about Lewis Hamilton's earlier assertion that Mercedes was losing three-tenths on the Hockenheim straights, Wolff said: "To be precise, it was five-tenths, on the straights.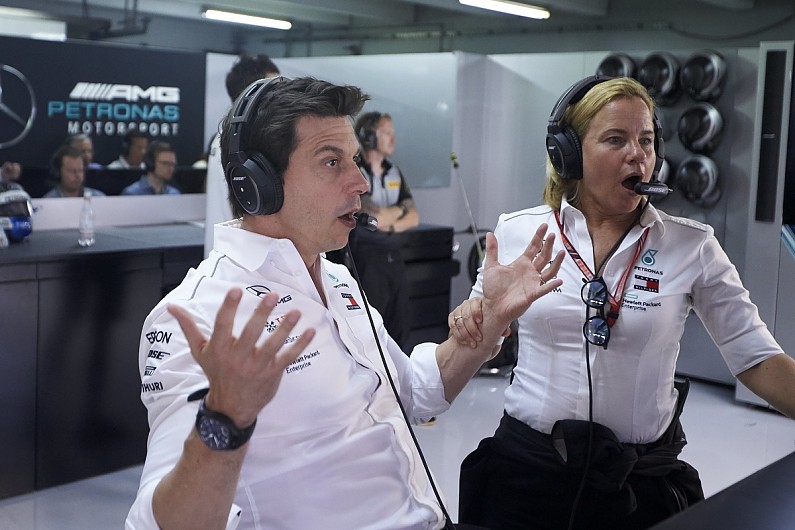 "We need to find out how we can increase out power output, and not one single second I want to look at Ferrari, I want to look at ourselves, look at Mercedes and say 'is there anything we have missed?'
"If we want to win this championship, or stay in the hunt in this championship, we've got a severe warning today in terms of what we have seen."
Wolff said he was impressed by Ferrari's "exceptional" development, and noted that Raikkonen still has the old spec V6 in his car - which means the performance must be coming from other areas.
The legality of Ferrari's hybrid system has been the subject of considerable debate, and F1 race director Charlie Whiting and other FIA representatives visited the Mercedes motorhome today to discuss power unit issues.
However, Wolff insisted that discussion was just "regular business" that happened to be taking place on a race weekend.
"It's very important from the mindset you need to have, to say 'What can we do in order to achieve that power output?' rather than looking over and saying, 'it's not legal'," he added.
"We are in a situation that we are looking at ourselves, how can we achieve that, and if we cannot achieve it, how can somebody else achieve it?"