Formula 1 could change its approach to penalties so the punishments are more closely aligned with the consequences of drivers' actions.
Sebastian Vettel's five-second time penalty for the French Grand Prix collision that sent him and Valtteri Bottas to the back of the field last weekend was criticised as inadequate by Lewis Hamilton and Mercedes' non-executive chairman Niki Lauda.
FIA race director Charlie Whitings said stewards are not supposed to consider the consequences for drivers affected by incidents when deciding penalties, only the perpetrators' actions, but hinted this could change.
"The stewards don't normally look at the consequences of the accident," he explained. "Although in fairness it probably plays a little subconscious part.
"Let's just say Vettel had continued without any problem, I think the stewards may have thought 'that's not fair, he's ruined Valtteri's race, it's clearly his fault', and they may have thought slightly differently.
"But it's not a conscious thing to say, 'He's OK, he's not.'
"Or let's say had it been the other way around, let's say Valtteri continued, Vettel had caused the accident, but should you actually penalise him as well as the penalty he's already got? Self-punishment if you like.
"It's something that we're discussing. It could open the door to something that we're not expecting, although some could argue that it's a bit more common sense.
"So it's something that we're currently discussing with the stewards."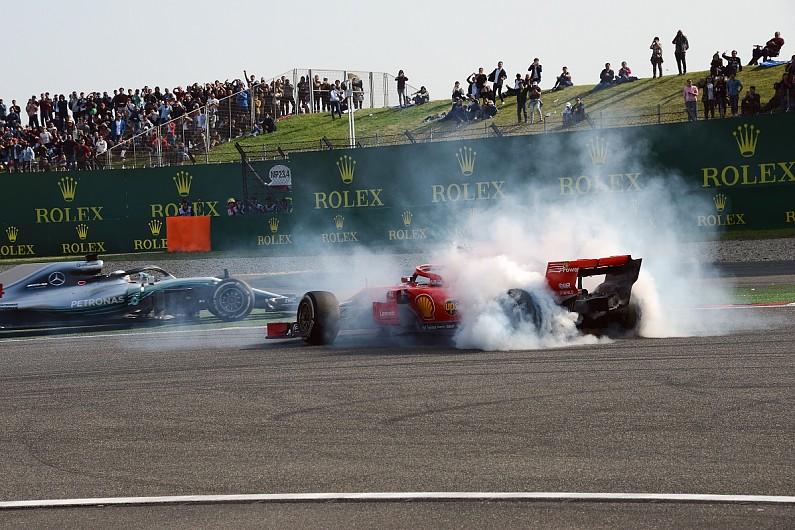 The French GP decision also prompted questions over why Max Verstappen's penalty for hitting Vettel in China had been 10s.
Whiting said the difference was that the Shanghai incident happened in the middle of the race.
"I think first-corner incidents, or even first-lap incidents, are looked at through a slightly different pair of eyes," he explained.
"You accept some of the things that happen on the first lap that you might not accept 10 laps later, for obvious reasons."
Whiting also stressed that drivers' past records should not be considered when a penalty is assessed.
"Previous races are not taken into account," he said.
"That's what the [penalty] points system is for. That's a fact. That's one of the cornerstones of the stewards' decision-making process."
The consistency of decision making is now driven by a system called the Race Watch Stewards Review.
Introduced at the start of 2016, it collates all incidents since then with video evidence and detail the outcomes in a single online resource, to which all FIA stewards have access.
This allows them to study details of what happened at races where they did not officiate.
"The stewards can go to any incident and see exactly what the decision was and what the reasons were and what the penalties were," Whiting added. "This is all an attempt to try and make things more consistent."
He said comparison with previous incidents using this system decided the fine McLaren received on Friday for releasing Stoffel Vandoorne into Vettel's path during Austrian GP practice.