Legendary former McLaren Formula 1 designer John Barnard doubts the team could survive the major changes he thinks are required for it to return to the front.
Barnard's spell at McLaren from 1980 led to major success, as he turned around the then-struggling team's fortunes.
His revolutionary carbon-monocoque MP4/1 design made McLaren a winner again in 1981 after a four year victory drought and his McLarens then won multiple drivers' and constructors' titles from '84 to '86.
McLaren currently is in another lengthy success slump. The team has not won a grand prix since 2012 and has not had a podium finish since the opening round of the '14 season. It currently sits fifth in this season's constructors' standings with its best result Fernando Alonso's fifth place in Melbourne.
Speaking at a launch of a biography on Barnard titled 'The Perfect Car', Barnard argued that McLaren's 'matrix' management structure needs to be ditched but fears the size of that task could make the change impossible.
"They've had this matrix management system installed by probably [former boss] Martin Whitmarsh, and you've got to break that down," Barnard said.
"I don't think that [system] works. You have to change the thinking.
"I don't know how long that will take, [or] whether the team can survive that kind of a fundamental turnaround.
"Considering that when we joined McLaren in 1980 the problems I had then trying to change the way things were done, we're talking about a fairly small operation [then].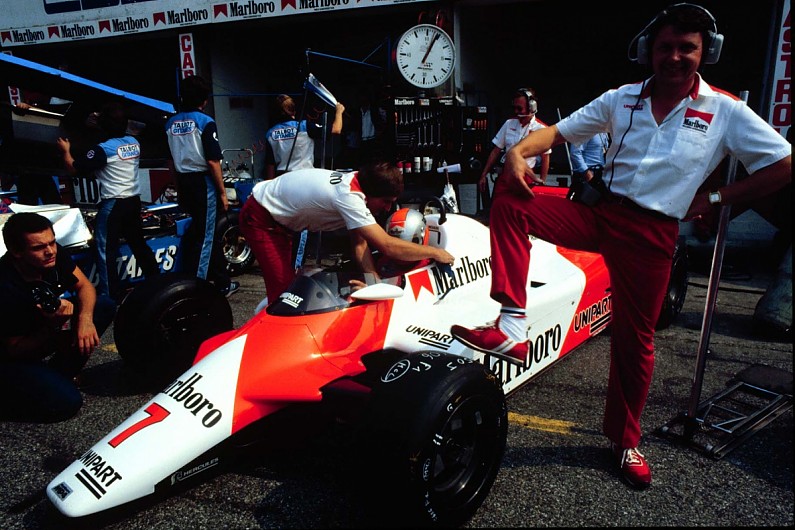 "If you take those problems to today with the numbers of people there, I wouldn't relish that job. It's like turning an oil tanker."
Barnard felt that McLaren's diversification under former McLaren Group chairman and CEO Ron Dennis, particularly into road cars, also has been to the detriment of its F1 effort.
"I was always very worried about diversifying," Barnard added.
"I know Ron's idea was he wanted this big group of companies, this big mega operation and he would sit over the whole thing, and he achieved it. But I think he achieved it at the cost of the Formula 1 team."
Barnard added that more recently when Dennis was still at McLaren he urged him to focus on the F1 team rather than the wider business.
"I kept saying to Ron, 'who is running the Formula 1 thing? You have to be back on the Formula 1 thing pulling it together; no one else can do it, just you'," Barnard said.
"[Dennis replied] 'Yeah I've got these guys and they're this and they're that'.
"I'm looking at McLaren today and thinking maybe if he'd taken a bit of that on board things might be different."