The concern over modern Formula 1 pitstops reached peak intensity last week with growing calls to reduce the complexity and speed of one of grand prix racing's most intricate processes.
McLaren's unsafe release of Stoffel Vandoorne during practice for the Chinese Grand Prix was the sixth pitstop incident across testing and the three GP weekends this year.
It followed another McLaren problem in testing, both Haas drivers retiring from the season opener in Australia and two unsafe Kimi Raikkonen releases in Bahrain, where a pit crew member had his leg broken during the race.
Over the Chinese GP weekend F1 was urged to consider the unsafe releases from people within the paddock, while FIA president Jean Todt has called F1 pitstops "too complex" and "something we need to address".
The onus has been put on teams either to refine their procedures, or for F1 to simply slow down pitstops.
Since refueling was banned for 2010, average pitstop times have dropped from more than four seconds to under 2.5s after tyre changes became the limiting time factor.
The added focus has reduced the spread in pitstop quality throughout the pitlane, although it has also increased the pressure on mechanics and raised the probability of mistakes.
However, introducing a minimum pitstop time is an unpopular notion, largely because apart from a brief ban for the 2005 season, tyre changes have been a traditional part of F1 competition.
Smaller margins mean pitstops are not the race-defining variable they used to be, especially as the significant new-tyre effect in the Pirelli era is a more significant strategic factor, but they still have an important part to play in how events are won and lost.
Red Bull proved this by stopping Max Verstappen and Daniel Ricciardo just six seconds apart on two occasions in China, producing flawless stops under intense pressure, with Ricciardo going on to win the race after his second tyre change.
F1 is keen to retain the dramatic, meticulous choreography of competitive pitstops.
Swivel jacks, retained wheelnuts, bespoke wheelguns and gym training for mechanics have all played a part in pitstop competency and speed reaching new heights in the nine years that tyre changes have been the teams' main focal point.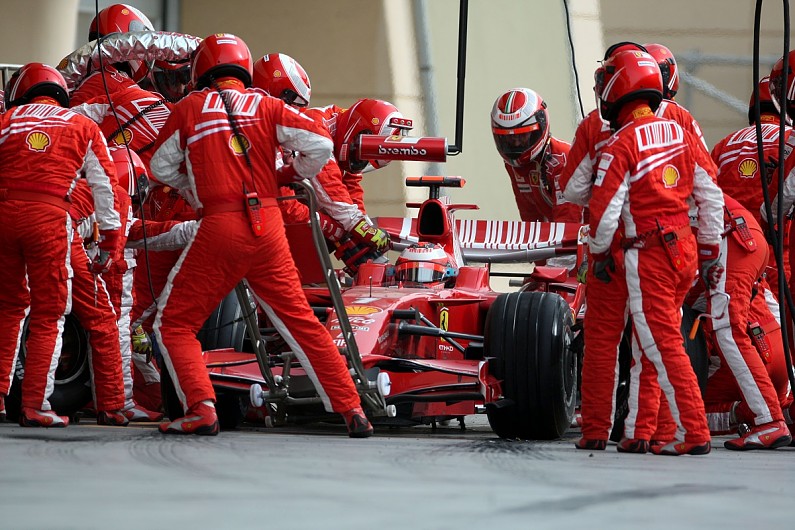 The most significant innovation was Ferrari's 2008 system that linked the release of the two jacks to a pitstop light to tell a driver when to go.
A semi-automated process has been adopted by every team in some way, and these systems have advanced to include wheelgun sensors that tell the operator of the gun to press a button when it registers a completed change.
Blending automation with human input has reduced the number of mistakes made during pitstops, but this is also why errors are brought into sharper focus.
Sensor confusion helped cause Ferrari's early release of Raikkonen in Bahrain that led to the mechanic getting injured, but only because of other errors.
A problem removing the left rear led to the mechanic taking off and re-engaging the gun, but the system registered this as the wheel being changed and the light turned green.
This sort of grey area, where systems perform appropriately within their parameters and are caught out by an unexpected scenario, is what the FIA wants to address.
A compromise would be to standardise the system, which would keep pitstops competitive but lower costs.
This would bring all 10 teams into the feedback process and eliminate scope for taking a risk to save time that could increase the chances of an unsafe release.
The FIA's preferred solution is to beef up the automated element so there are extra parameters to satisfy before a driver gets the green light to leave. This would improve safety and preserve competition to a greater degree.
As a sport that is meant to push human performance to the limit in multiple ways, that means a beautiful but controversial art can be preserved.