Liberty Media boss Greg Maffei has been surprised by the 'noise' surrounding negotiations with Formula 1 teams over the championship's future beyond 2020.
Maffei, the US company's president and CEO, regrets that the debate has reached the public and admits the lack of a firm deadline means progress has been slow.
The likes of Ferrari president Sergio Marchionne have made their opposition to the proposed new engine regulations clear with strong public statements.
"You've seen some of the public discord where we're trying to build more balance by things like trying to build cost caps in, trying to level the payments out, so they're not so favourable to the winners," said Maffei.
"Why? We want to create the NFL perspective, where on any given Sunday, anybody can win.
"There's some tension around that, and it's probably noisier yet than we thought it would be, and there will be more as we go through the period when we move up to renewing the Concorde Agreement for 2020, and renewing the relationship - or a different relationship - going forward.
"It's a little bit of a surprise how noisy all that is. Most of us are used to conducting business like that in private.
"Anything around F1 gets blared out across the headlines of the world, whether you like it or not."
Last year F1's new owner and the teams began discussions over how income will be distributed when the current deals, signed by Bernie Ecclestone, expire at the end of 2020.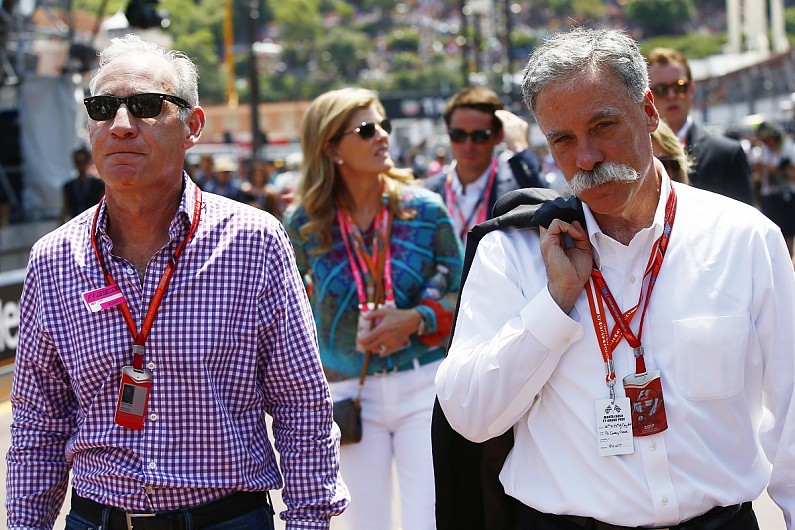 Those talks are tied to the debate over future rules, and in particular the engine regulations, and the prospect of spending caps
Maffei (pictured above with Chase Carey) says that the parties involved had different ideas about the timing of any agreement, and implied that some teams want to gain an advantage by being among the first to sign up - which is what used to happen in the Ecclestone era.
"One of the issues is that it doesn't really have to get fixed until 2020," he said.
"There is a lead time where you need to have some of this fixed, but as we sit here in early 2018 there is not a hard deadline yet that gets everybody there.
"There's a lot of people who want to get there sooner, and other people who see perhaps that it's in their interest to play out the old hand.
"There are several teams who have been saying publicly that Liberty should put the terms on the table, we should get signed up, and we should stare down the other guys who don't want to sign up.
"We've tried to take a tack more of 'let's see if we can get everybody in the boat, and row together', rather than draw a hard line."
Maffei suggested that the current pacesetting teams' resistance to change was slowing progress.
"Perhaps the people who like the old spec have an advantage in waiting for the spec to be later, rather than earlier," he said.
Autosport has produced a standalone special magazine to celebrate our 70th birthday. All current print subscribers will receive a copy for free. To order your copy of the 196-page Autosport 70th Anniversary issue, please go to: autosport.com/autosport70th