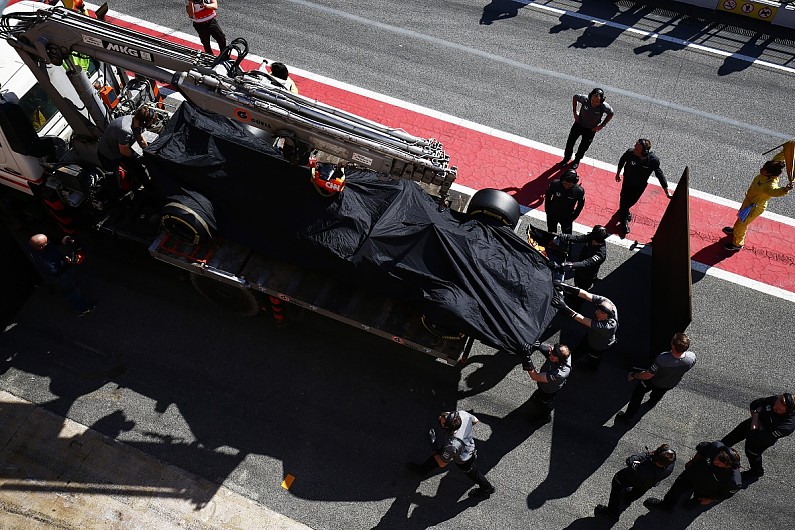 McLaren's behind-the-scenes Amazon documentary would have fallen flat if the Formula 1 team had censored some of its more controversial moments, reckons executive director Zak Brown.
Amazon's four-part Grand Prix Driver series, which was released last week, follows the McLaren team's preparations for the 2017 campaign and exposes the struggles and frustrations it felt as its relationship with Honda fell apart.
Scenes like a troubled new car engine fire up, and some eye-opening radio conversations from Fernando Alonso during pre-season testing, have helped the series earn praise from fans who have seen it.
"We took a decision: if you are going to do a show like that, then you have to be authentic to what the purpose of the show is," said Brown.
"So we let them in places and meetings, like we have every Tuesday race debriefs.
"We took the view that it would be counter productive if it was the inside of McLaren, edited by McLaren.
"We wanted to show everyone this is what really happens in an F1 team."
The original intention of Grand Prix Driver was to focus on Stoffel Vandoorne's rookie season in F1.
Brown said there was no second thought to keeping the filming going when the back story of Honda's woes emerged.
"It wasn't what we had planned for last year, but it was very authentic, very real and that is what the sport needs to do more of for the fans," he added.
"Let's be who we are, and not try to necessarily be politically correct in everything we do. Let's let our guard down a little bit and let the fans on the inside.
"We hoped it would have been a different story. It really intended to be about the rise of Stoffel, but with all that was going on, it became the rise of Stoffel with all this other stuff happening.
"We've seen it and there are some scenes where we go, 'Oooooh...'.
"But we had to be authentic to what we said the show was going to be about.
"We just hope people appreciate our open and honest and transparent approach."
With F1 poised to confirm a deal with Netflix for a series of more behind-the-scenes films with various teams in 2018, Brown thinks that grand prix racing must do more to bring fans closer to what goes on off the race track.
"I think more people need to see what goes on in our garage, more people need to see what goes on here [at the factory] because it is quite fascinating," he said.
"We should open up that access up a bit more without sharing trade secrets because as you well know there is a heavy paranoia about the competition and seeing what we are up to."