Mercedes motorsport boss Toto Wolff says he was 'bothered' by clashes between junior driver Esteban Ocon and his Force India Formula 1 team-mate Sergio Perez in 2017.
Discord between Perez and Mercedes protege Ocon - who had moved to Force India for his first full F1 season after a part-year with Manor - began with a team instructions controversy in Canada and escalated into collisions in Azerbaijan (pictured above), Hungary and Belgium.
Force India then imposed team orders on the pair and they resolved their differences.
Ocon had approached Wolff for advice in dealing with Perez during their spat, hoping his experience of managing Lewis Hamilton and Nico Rosberg at Mercedes would help, but Wolff admitted that he was irritated by the Force India clashes.
"What bothers us are these intra-team rivalries that end with two damaged cars," he told Autosport.
"This applies not only to Esteban, but also to 'Checo' [Perez]. As a team boss, I'm so annoyed by that."
Ocon ended last season in eighth place in the drivers' standings, one place and 13 points behind Perez in seventh.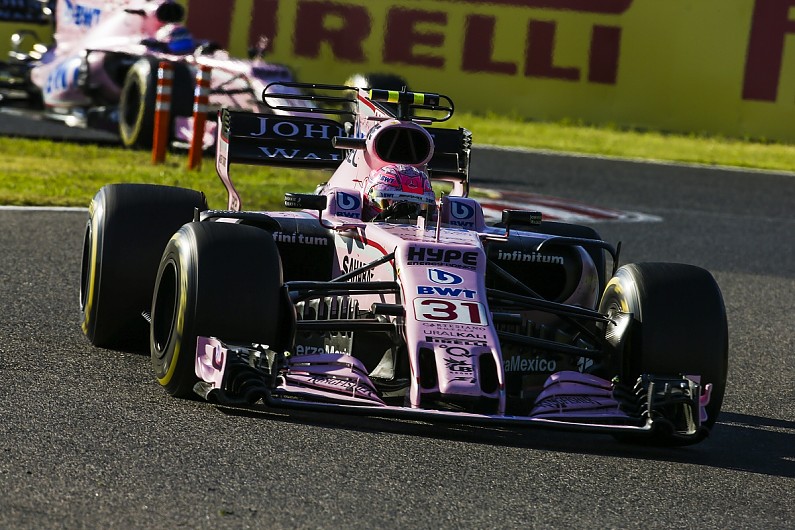 Perez recorded Force India's best race result of fourth in the Spanish Grand Prix, while Ocon's personal bests were fifth in that race and Mexico.
Wolff says that Ocon must beat Perez in 2018 in order to continue his development.
"Esteban performed very well against a very strong Sergio Perez," said Wolff.
"[In 2018] he has to take the next step and improve this performance.
"He is incredibly consistent, makes few mistakes and has great speed.
"[This year] he will have to develop further in this respect and outperform Perez."
Perez has warned Force India against repeating its team orders in 2018, arguing that it cannot afford to do so in a season when he expects McLaren and Renault to provide tough opposition.