Renault intends to beat top Formula 1 teams Mercedes, Ferrari and Red Bull to the world championship with "85% of their capability and resources", according to team boss Cyril Abiteboul.
Renault is engaged in an ongoing redevelopment of its works F1 operation in Enstone, after taking over Lotus at the end of 2015.
Personnel numbers and infrastructure have expanded greatly since, with Renault recruiting more than 100 new staff and growing its team towards a target of around 750.
Abiteboul says that growth will continue in 2018, but at a further reduced pace, while new executive director Marcin Budkowski, hired controversially from the FIA, will work on refining Renault's structure to mount a future title challenge using fewer resources than other top teams.
"Basically, the challenge I'm giving to our team, to everyone, including myself, is to be able in the medium-term future to compete with the top teams with 85% of their capability and resources," Abiteboul told Autosport.
"That goes in terms of budget, but also in terms of headcount.
"I'm not trying to match what Mercedes has or what Red Bull has, just for the sake of matching.
"I'm trying also to do what they are doing in a more efficient way, which has always been the way Renault has been doing Formula 1. It can't be an arms race."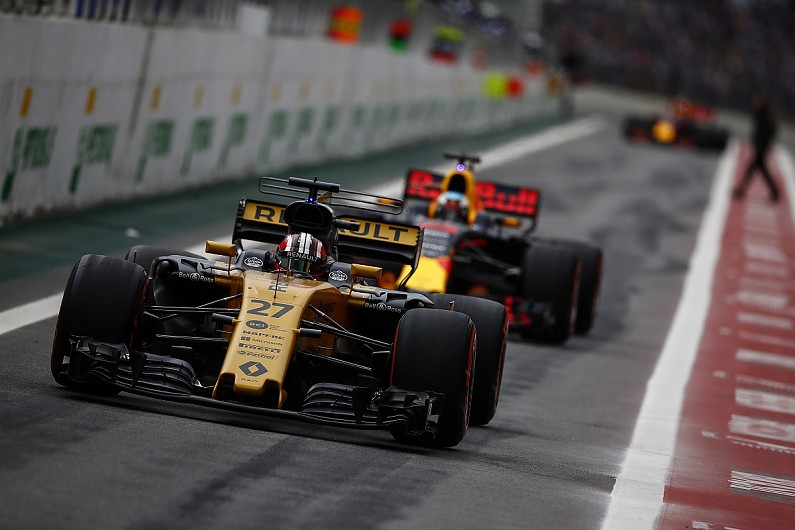 Abiteboul said uncertainty surrounding the future direction of F1 under new owner Liberty Media, particularly concerning engine rules and potential cost caps, adds pressure to avoid growing the team to a level that leads it to shrink again later.
"We will continue to grow, [but] we will start to slow down the pace at which we are growing, because frankly it's been quite impressive - impressive but also challenging for everyone to manage," Abiteboul added.
"I think we need to slow down and eventually stabilise the base, and make sure we understand what's working, what's not working, assess the strengths and weaknesses of our team, and still maintain some capacity to adjust, to increase activity in the areas that will be a bit weak.
"We don't want to get to a point where I believe we would then have to go down again in the next few years, so I'm trying to make a sensible judgement of what's sustainable for a Formula 1 team in a medium to long-term future, without jeopardising our capacity to fight for championships by 2020 or 2021.
"We think with that figure of 700 or 750 in Enstone, that will be a good ballpark figure to operate with."