Mercedes boss Toto Wolff says Red Bull's Christian Horner only has himself to blame for Formula 1's move to three engines in 2018, despite his push to ditch the limit.
Horner said over the Abu Dhabi weekend that F1 was 'barking mad' to go down from four to three engines for each driver next year and McLaren racing director Eric Boullier said the rule is "not Formula 1".
The ruling could impact Red Bull with Renault's unreliability a problem this year, as well as Honda's similar struggles, and Horner has raised concerns that three engines per driver could lead to a 'wave of grid penalties.'
But Wolff is unimpressed with Horner's stance and says the decision to go down to three engines came about because customer teams like Red Bull pushed so hard for cheaper deals.
"If it's barking mad, they shouldn't have pushed for a lower supply price, and we shouldn't have agreed to give that in order to achieve lower supply price," said Wolff, when asked by Autosport about the ongoing controversy.
"We're going to go down from four engines, which was bound in the regulations, to three engines. This is where we are - the regulations stood for four engines for next year - and we were perfectly fine for that.
"All manufacturers were pushed, let's call it strongly encouraged, to optimise on the supply price - and this is what we did and this was the consequence. And everybody, as far as I remember who was on the table, was part of it.
"It's a massive struggle for all of us, but it's out of what we have discussed."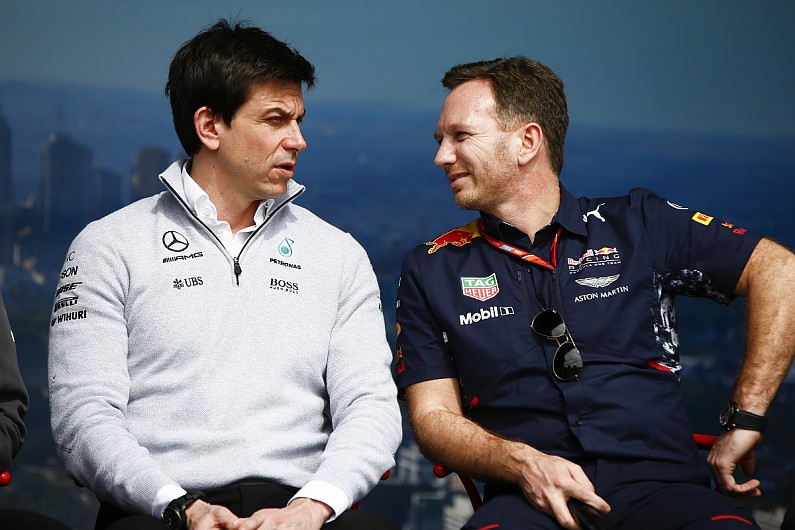 Williams technical chief Paddy Lowe backed Wolff's stance, saying the calls from customer teams to end the three engine limit were misplaced.
"Whilst there is a burden to give out engines that last longer, that burden's been put on the manufacturers and the cost of it," said Lowe. "And as customers, we see the benefit through a lower price tag.
"I think that's the important point to understand. I think it's good news that, when there are good things for Formula 1, we should understand and appreciate them, that helps the smaller teams and going back to four engines inevitably required price increases."
Asked if he had any sympathy for Red Bull and McLaren's view, he added: "It fails to recognise that point I just made, it was that very important point. You can't divorce the two things.
"You're always free to take a penalty, take an engine then that will cost you more money. Or you can not run your engine with so much power, that's the formula.
"I'm not familiar with other engines but if you took a Mercedes engine today and ran it at lower power, you could get through the season already on three engines.
"It's what power level you select will dictate the life to a large extent so that's [where] the development [is] going."