Niki Lauda says Mercedes must make its Formula 1 car easier for Valtteri Bottas to drive, following the Finn's slump in form since the August summer break.
Bottas won two grands prix during the first part of the F1 season, but has not out-qualified team-mate Lewis Hamilton since July's Hungarian GP and endured another difficult time at last weekend's US Grand Prix - qualifying nearly half a second adrift before finishing a distant fifth.
Bottas has delivered flashes of pace and some strong stints in races since August, but has struggled for consistency compared to Hamilton, and Mercedes non-executive chairman Lauda said it was up to the team to make its car easier to drive on the limit.
"It's difficult for him, because the car is very difficult to drive," Lauda said. "Lewis can handle it better, and Valtteri has difficulties.
"If you give him an easy car to drive, and the way he likes the car, then he will be right there again.
"It's against his driving style the way our car, at the moment performs - even Lewis sometimes complains about how difficult it is to drive. Nevertheless, he can still win, thank God.
"The pressure is on us to make it easier."
Lauda reckons Hamilton is also the best driver on the grid, which compounds the difficulties for Bottas, and even put a number on Hamilton's advantage over his rivals.
"He's the best, very simple," Lauda added.
"He's always been good, and now it's even better.
"I think he's the quickest guy anyway today. If you compare him with all the others, he's one, two tenths quicker than everybody else."
Bottas: car and driver need work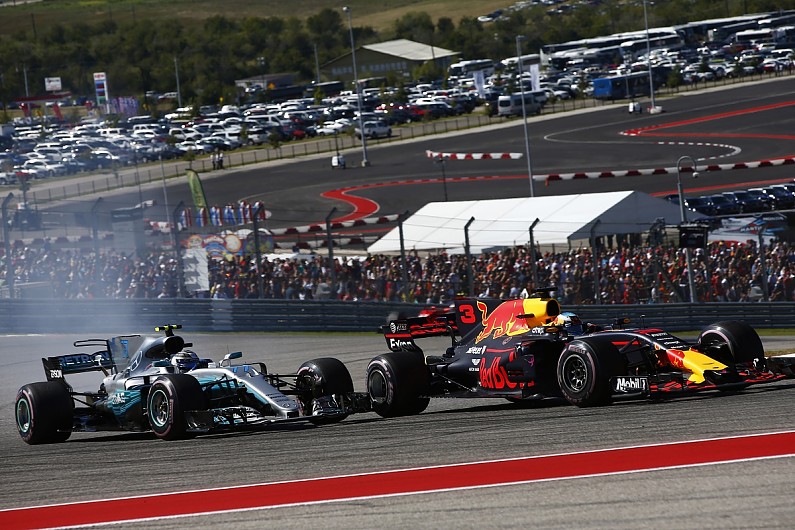 Bottas showed strong pace at times during the Austin race, but struggled with tyre management amid some frenetic battling with the Ferraris and Red Bulls.
He thinks he needs to further adapt his driving style to get the most from the car, as well as refining its set-up.
"Honestly I think it's both," he said.
"Always as a driver you need to adapt to the car you are driving, but there's also been a couple of weekends this year that Lewis has been struggling with similar issues and dropping out of the [performance] window.
"I feel there is definite progress - I feel from every struggle I will always learn something.
"The set-up is still not as I want - we can change the set-up of the car to be better balanced and nicer to drive, but then it's slower.
"We need to make a compromise and that's something I've found more difficult this year.
"We know as a team the issues we have - the car is not so easy to drive and it's difficult to set up, and also, from the team side, there's things we can do better for the new car."