Jenson Button considered signing for Toro Rosso ahead of the 2009 Formula 1 season, according to claims in his new autobiography.
In Life to the Limit, Button writes that in the aftermath of Honda's withdrawal from F1 at the end of 2008 he had an "option" to drive for Red Bull's junior outfit, which had a slot available after Sebastian Vettel was promoted to the senior squad.
Button ultimately decided not to pursue the Toro Rosso drive and ended up staying with the former Honda team when it became Brawn GP - going on to win the 2009 title.
"One option was to race for Toro Rosso, Red Bull's junior team," wrote Button.
"I loved them; they had and still do have great spirit and attitude, but I knew I'd never get close to a podium in their car.
"What's more, they wanted me to bring money in the form of sponsorship to help fund the team, which was singularly unappealing."
Elsewhere in the book, Button explains that his one-off McLaren appearance in place of Fernando Alonso at this year's Monaco Grand Prix did not leave him with a desire to compete full-time in F1 again.
"Do I miss it? Tough one, but the answer's no," he wrote.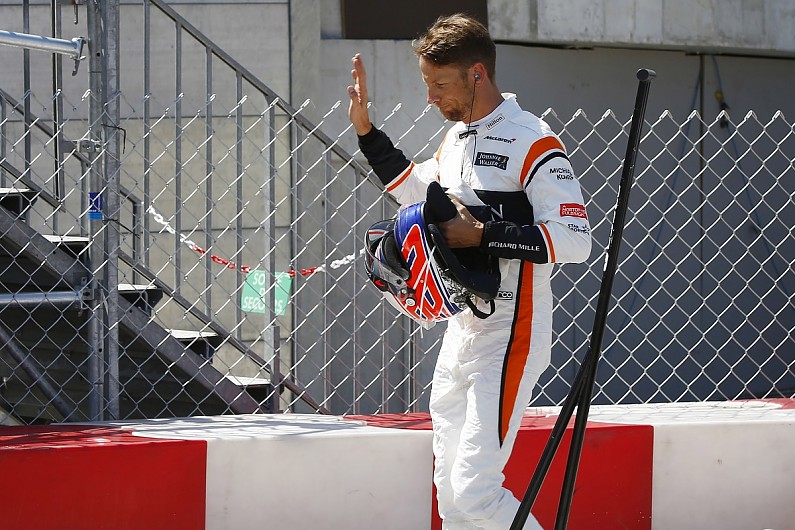 "I qualified ninth [in Monaco, where he started from the pitlane after picking up engine grid penalties] which I was very happy about, but for the race itself, I was a DNF.
"I didn't come away from the experience feeling like I wanted to go back and prove myself."
Button also claims to have been offered other opportunities to return to F1, but has turned them down.
The 15-time F1 race winner is still yet to reveal which series he will compete in during his future motorsport career, but he does highlight his desire to race at Le Mans.
"I've been offered drives in Formula 1 but I'm not interested, although I will race in the future," Button wrote.
"Now that I'm no longer contractually forbidden I'm free to race in other categories.
"I enjoyed the rallycross experience [for the BBC with David Coulthard in 2015], I've already dipped a toe in Super GT and I'd love to do Le Mans at some point - there's so much out there.
"Just not Formula 1. Not without Dad [John Button, who died in 2014]."
Life to the Limit by Jenson Button (Blink Publishing) is out today.