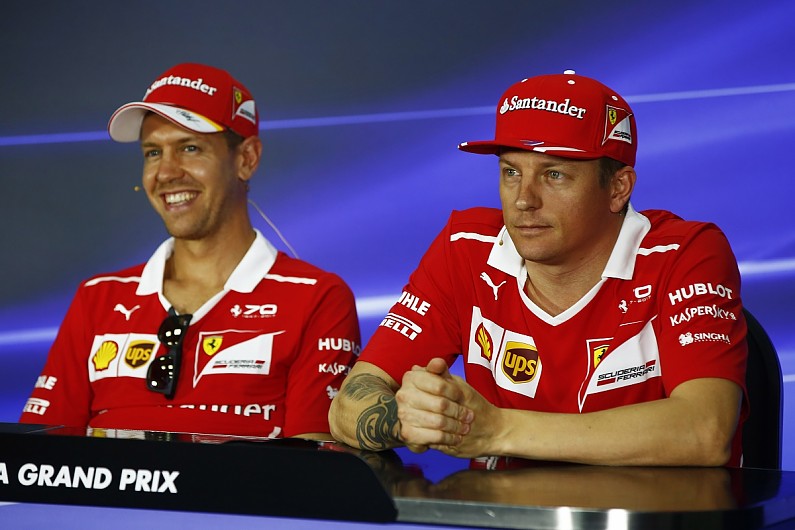 Sebastian Vettel says Kimi Raikkonen is the best team-mate he has ever had in Formula 1 because the Finn does not try to play political games.
Vettel has not always got on well with team-mates, having famously clashed several times with Mark Webber at Red Bull.
He and Raikkonen collided at the start of the Singapore GP earlier this season, but only because the German moved across to defend from Max Verstappen.
The four-time world champion has formed a strong working relationship with Raikkonen during their three years together at Maranello, where he has comfortably asserted himself as the lead driver.
They will remain team-mates for at least next season, with Vettel signing a new deal through to 2020 and Raikkonen extending his stay at Ferrari to the end of 2018.
Asked by Autosport in an exclusive interview what sort of team-mate he prefers, Vettel said: "It's not your decision - and I don't think it should be. So I don't mind.
"Obviously it makes it a lot easier if you have somebody who you are working with that you feel the respect.
"You know, many times people tend to make things much more complicated than they are, especially in Formula 1, so it's good if you can work with somebody where there are no politics or no confusions or anything.
"In this regard Kimi is probably the best team-mate that I had. He is pretty straightforward, but I also got along well with Daniel [Ricciardo].
"Then with Mark [Webber], obviously at times we had our differences.
"Also I have to say we were different generations, so we probably from the start were not that close, but that is how it is."
Having relished his switch to Ferrari since joining at the start of 2015, Vettel says that satisfaction for him these goes beyond pure results.
"I am very happy and honoured to race for Ferrari," he said. "But I want to win. Do I measure happiness in success? Probably not.
"But what makes me happy is if I can get out of the car and say that I've done everything I could and I'm happy with my own performance
"I think it makes me extremely happy to see that, to have the team behind me, to see that we are all together as one team.
"And apart from the racing side, obviously all the challenges that I have at home."