Sebastian Vettel has confessed to feeling that he had let the Ferrari Formula 1 team down when he lost his temper in Baku and banged wheels with Lewis Hamilton.
Vettel veered into Hamilton behind the safety car during the Azerbaijan Grand Prix in June, having felt his title rival had brake-tested him.
His actions earned Vettel a 10-second stop-go penalty and an FIA investigation into his behaviour, though he escaped further sanction.
Reflecting on the events of the season in an exclusive interview with Autosport, Vettel said what happened in Baku felt much worse for him than the crash in Singapore recently even though the Azerbaijan incident was ultimately not as costly for the championship.
"I think Baku was worse," said Vettel. "I felt I let the team down, because something that I did obviously cost a race win potentially.
"Singapore, to be honest, the way I look at it, it's racing and it happens.
"Obviously it is extremely unfortunate, but I don't know how many start crashes there have been in the past and there will be in the future.
"If you happen to be inside them, it always sucks. There is no better way to describe it.
"Did it come in a good time? No. Is there any ever a good time for this to happen? Probably not.
"So it doesn't matter. It happened. We cannot control it. We need to focus on what we have in our hands and try to focus on things we can control."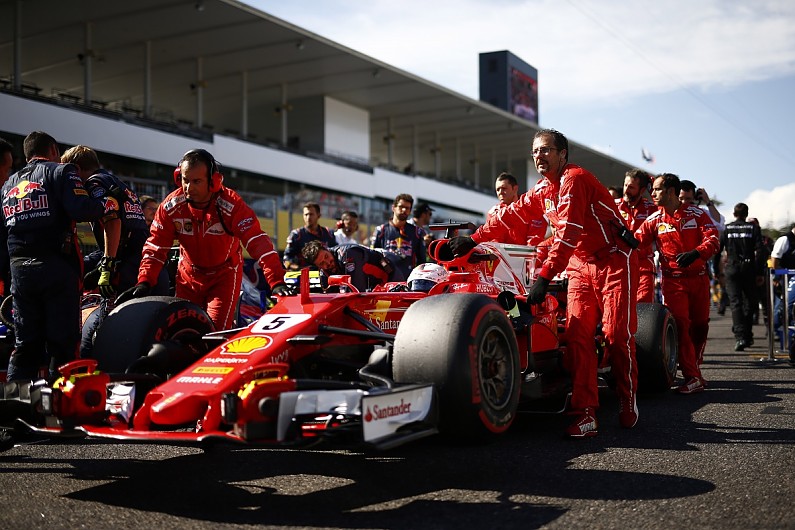 Ferrari emerging as Mercedes' main title challenger after a 2016 campaign that fell short of expectations was one of the surprises of this year.
Vettel put this down to changes made during last season.
Asked what was different about Ferrari this year, he replied: "Not so much. The people, they are more or less the same.
"2016 was a tough year, but a very important year, because a lot of things we shifted internally for the better. So it should make us stronger.
"Obviously this year gave us the chance with new rules and so on to come up with a new car and we used our chance, but you can see we are not entirely happy, because we want to win altogether.
"I still think that there is a lot to do still. I don't mean that there is still a lot of changes necessary in terms of we need to change the people, because that is what people normally think: when you talk about changes - 'ah, you need to change the people'. No.
"Sometimes you need maybe to make some small adjustments with the same people, and it works much better.
"So I think the potential is there in Ferrari, the people are there, talent is there. And it's about us, all of us trying to work together and make it happen."