Mercedes' Lewis Hamilton closed in on the Formula 1 title with victory in the Japanese Grand Prix, beating Max Verstappen as Sebastian Vettel's championship hopes took a blow with retirement.
Hamilton converted pole into an early lead while second-placed Vettel began to drop back immediately, minutes after his Ferrari team had taken the engine cover off the car on the grid to check a spark plug problem.
Vettel's susbequent lack of pace after meant Verstappen, who passed Red Bull team-mate Daniel Ricciardo off the line, picked off Vettel at the hairpin on the opening lap, before the Ferrari dropped another three places at the start of the second tour.
After a brief safety car period, caused by Carlos Sainz crashing his Toro Rosso at Turn 6, Vettel slumped to eighth before getting the call on the radio to pit and retire the car on lap 4.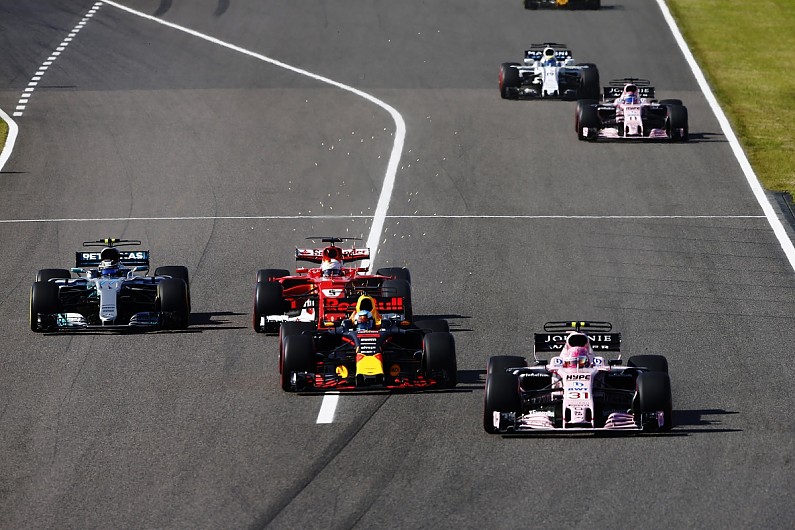 Hamilton then extended his lead to just over four seconds before Verstappen pitted to change his supersofts for soft tyres on lap 21, with Hamilton covering off the undercut on the following tour.
Bottas began to hold up Mercedes teammate Hamilton after Ricciardo made his stop, allowing Verstappen to close within a second of his rival, but the gap grew again when Bottas allowed Hamilton through at the Casio Triangle at the midway point and started to hold up Verstappen.
It wasn't until lap 30 that Bottas pitted for supersofts by which time Verstappen had fallen 3.4s adrift.
The Dutchman then managed to cut Hamilton's advantage to a little over two seconds, but couldn't keep up the pace until Hamilton found himself impeded by Fernando Alonso on lap 51.
That allowed Verstappen to close to within a second at the start of the final lap, but more traffic allowed Hamilton to escape once more and seal the win by a slight margin.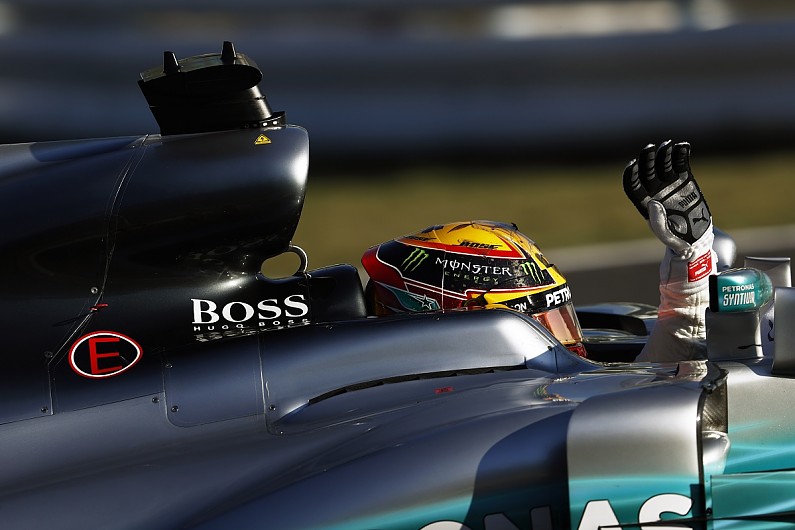 Ricciardo completed the podium in third after a succession of fastest laps late on but couldn't make further inroads after switching to supersoft tyres on lap 25.
The sole surviving Ferrari of Kimi Raikkonen finished fifth, recovering after dropping to 15th on the opening lap when he was forced wide at Spoon by Nico Hulkenberg.
The Force Indias of Esteban Ocon and Sergio Perez finished sixth and seventh. Ocon had run as high as third early on after passing Ricciardo on the opening lap, but was soon demoted to fifth on successive laps by Ricciardo and Bottas.
An aggressive late move at Turn 1 on the Williams of Felipe Massa gave Kevin Magnussen eighth place, with Haas team-mate Romain Grosjean following through to grab ninth.
Fernando Alonso finished 11th in the final home race for Honda as engine partner to McLaren, ahead of Jolyon Palmer's Renault and Toro Rosso's Pierre Gasly.
Stoffel Vandoorne came home 14th in the second McLaren after dropping to the rear on the first lap.
Sauber's Pascal Wehrlein was the only other finisher in 15th, his team-mate Marcus Ericsson crashing out early on at Degner 2.
Lance Stroll retired when an apparent failure on the front-right of his Williams sent him skating across the gravel late on, while Nico Hulkenberg's DRS refusing to close forced him out.
Race result
| Pos | Driver | Team | Car | Gap |
| --- | --- | --- | --- | --- |
| 1 | Lewis Hamilton | Mercedes AMG Petronas F1 Team | Mercedes | 1h27m31.194s |
| 2 | Max Verstappen | Red Bull Racing | Red Bull/Renault | 1.211s |
| 3 | Daniel Ricciardo | Red Bull Racing | Red Bull/Renault | 9.679s |
| 4 | Valtteri Bottas | Mercedes AMG Petronas F1 Team | Mercedes | 10.580s |
| 5 | Kimi Raikkonen | Scuderia Ferrari | Ferrari | 32.622s |
| 6 | Esteban Ocon | Sahara Force India F1 Team | Force India/Mercedes | 1m07.788s |
| 7 | Sergio Perez | Sahara Force India F1 Team | Force India/Mercedes | 1m11.424s |
| 8 | Kevin Magnussen | Haas F1 Team | Haas/Ferrari | 1m28.953s |
| 9 | Romain Grosjean | Haas F1 Team | Haas/Ferrari | 1m29.883s |
| 10 | Felipe Massa | Williams Martini Racing | Williams/Mercedes | 1 Lap |
| 11 | Fernando Alonso | McLaren Honda | McLaren/Honda | 1 Lap |
| 12 | Jolyon Palmer | Renault Sport F1 Team | Renault | 1 Lap |
| 13 | Pierre Gasly | Scuderia Toro Rosso | Toro Rosso/Renault | 1 Lap |
| 14 | Stoffel Vandoorne | McLaren Honda | McLaren/Honda | 1 Lap |
| 15 | Pascal Wehrlein | Sauber F1 Team | Sauber/Ferrari | 2 Laps |
| - | Lance Stroll | Williams Martini Racing | Williams/Mercedes | Suspension |
| - | Nico Hulkenberg | Renault Sport F1 Team | Renault | DRS |
| - | Marcus Ericsson | Sauber F1 Team | Sauber/Ferrari | Spun off |
| - | Sebastian Vettel | Scuderia Ferrari | Ferrari | Spark plug |
| - | Carlos Sainz Jr. | Scuderia Toro Rosso | Toro Rosso/Renault | Spun off |