Lewis Hamilton says he and the Mercedes Formula 1 team will decide on Thursday evening whether to run the team's latest aerodynamic package during the Japanese Grand Prix weekend.
Mercedes introduced an upgrade ahead of last weekend's Malaysian Grand Prix, which both drivers used in free practice.
But Hamilton reverted to the previous-specification ahead of qualifying and went on to secure pole before finishing second, while team-mate Valtteri Bottas said he regretted sticking with the update after winding up fifth in qualifying.
Hamilton said he and the team were still split on which direction to take at Suzuka.
"It's not decided at the moment, it's a constant discussion," said Hamilton.
"The guys want to go one direction and I'm hesitant and more feeling for another way.
"I've got a huge amount of trust and belief in the team and I know they want to win just as much as me so collectively we'll come to an agreement and make sure it's the right decision.
"It's important to always challenge each other. As a driver I'm always challenging them.
"They'll have numbers and I'll still challenge it even if it's a perfect result because the perfect number doesn't always necessarily feel the greatest on track.
"I heard it's going to rain tomorrow [Friday] so that's going to make it a little bit difficult for us to feel whatever set-up we do have.
"We'll probably make a decision by the end of the day - we've got another meeting at the end of the day, so probably by [tonight] we will have decided."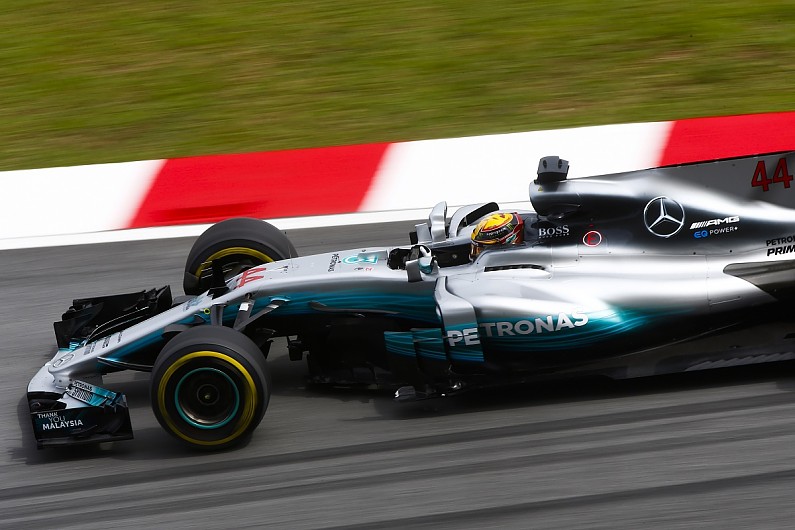 Hamilton said in the wake of the Sepang race he had a clear idea of the set-up direction Mercedes needed to take in Japan, but he added on Thursday he was still struggling to predict what he could expect from his W08 prior to most weekends.
"I'm confident in the car working at some stage," he said.
"It's just this deep into the season that I still have no idea where it's going to be good, where it's going to be great - like Silverstone - or where it's going to be a real struggle like Malaysia or Singapore.
"You look at the last one [Malaysia], we were far off, and all of a sudden we got pole position.
"I managed to pull out a lap and I didn't even know where it came from.
"If we were going into the race beyond this and we knew what was going to happen it would be kind of dull. I like that we're arriving and we don't know.
"There's some stories that we've been thrown off, that we're on the back foot - we're not.
"We're still leading the championship, we've still got a great car, each race is just really trying to understand more about the car because there's constantly something new thrown in the mix, [that] can catch us off guard."