Williams Formula 1 drivers Felipe Massa and Lance Stroll lost out to McLaren's Stoffel Vandoorne during the Malaysian Grand Prix because they were executing a place swap.
Vandoorne was running ahead of the pair but pit one lap later than Stroll and two laps later than Massa, which handed them a pace advantage on fresh tyres.
However, Vandoorne emerged from his pitstop just ahead, while the two Williams drivers appeared to be battling down the start-finish straight, and held on to the place through the opening complex of corners.
Vandoorne went on to finish seventh ahead of Stroll and Massa, and Williams chief technical officer Paddy Lowe has revealed that the drivers cost themselves time by swapping places, not by fighting.
Williams was swapping the cars because Massa's earlier stop, which was done to cover off Renault pitting Nico Hulkenberg a lap before, inadvertently let him get ahead of Stroll.
"Since Lance, who previously had the lead, ended up behind Felipe after the pitstops we felt it was correct to swap the places," Lowe explained.
"We also knew Felipe's car was carrying some damage [sustained in the contact at the start].
"Unfortunately, in the execution of that we lost a potential position to Vandoorne coming out of the pits."
While Stroll got within a couple of seconds of Vandoorne at times during what Lowe called "a very long second stint", neither he nor Massa could get ahead of the McLaren.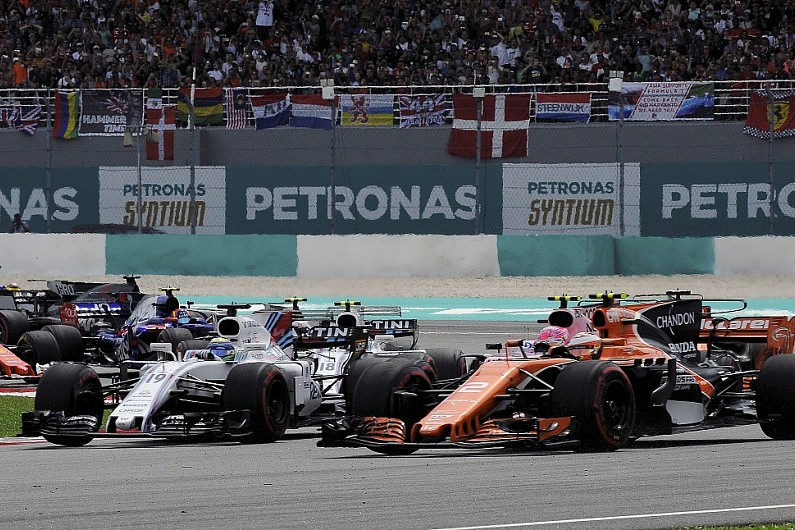 Stroll was then involved in a bizarre accident after the chequered flag when he and Sebastian Vettel made contact on the slowing-down lap that left the Ferrari stranded on the circuit with significant damage.
"I am very happy with the end result, which was fantastic," said Stroll.
"Coming eighth from 13th, having great pace throughout the race, having a good fight all through the race, managing my tyres, and eighth and ninth being a great result for the team.
"Then at the end I was on the in lap, on my normal line, picking up rubber, doing all my switch changes, shutting down the car and Sebastian came flying by me, pushing round the outside like the race was still on."