Valtteri Bottas believes his deficit to Mercedes Formula 1 team-mate Lewis Hamilton in recent grands prix is down to his driving style not suiting the car.
Hamilton has outperformed Bottas at every race since the summer break, qualifying at least half a second quicker at all three events.
Bottas said he understood where he was losing out and why, and believes he can make the style changes necessary to eradicate the gap.
"Some things in my natural driving style are kind of opposite to this car in places," he said.
"How you manage the tyres becomes a bit more tricky for us.
"A lot of things are just related to tyre temperature and the way that affects grips and performance.
"On particular circuits, I have work to do as a driver."
In the Singapore GP, Bottas matched Hamilton at times but acknowledged he "definitely was lacking pace in the wet" and faded "after a couple of laps" in each stint.
"I looked at a lot of things and there's definitely a lot of things I could do better if I could do the race again," said Bottas.
"It's obviously too late, but I will know it for the future."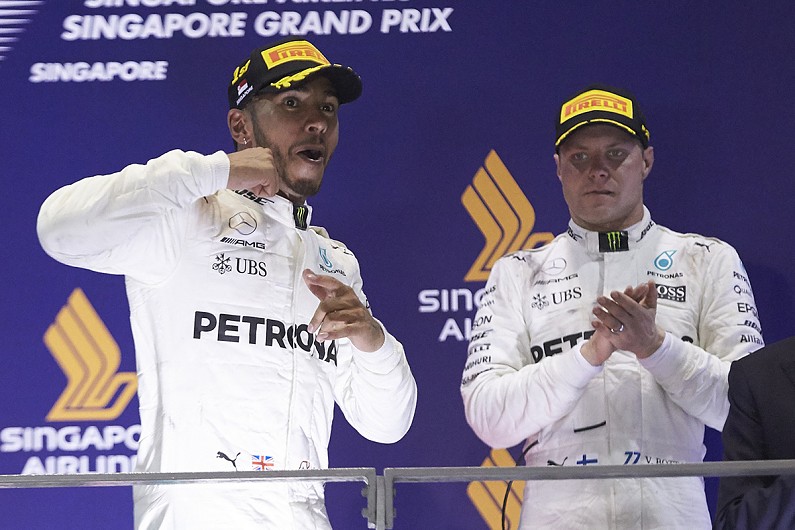 He underlined that he was happy to adapt to the car, rather than needing it to be changed to fit his style.
"I believe I can change my driving style in certain ways and I have no choice but to do that - that's how it always goes in motor racing," said Bottas.
"In the race you always have different kinds of car and you always have to get used to that to get the most out of the package.
"You can't rely on one driving style and drive the car like that. That's not the quickest way."
Bottas added none of Mercedes' recent upgrades should have taken the car's behaviour further away from his style.
"There's been nothing that's really changed the car or how the car works," he said. "So that's not really the explanation."
While he and Hamilton ended up with very different set-ups in Singapore, Bottas said that was a rarity.
"Singapore was a one-off as we separated into very different paths with the car's set-up," he said. "I just couldn't drive with a car similar to Lewis's.
"The direction I went into, performance wise, was not ideal but at least I could still drive the car like that.
"In general in the year, our set-up has been quite similar, not massive differences."